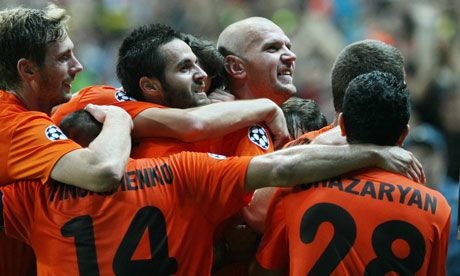 The animal rights campaign group Peta has appealed to Uefa's president, Michel Platini, to ban the ritual slaughter of animals in European football. The call for action follows the killing of a sheep by the Kazakh side Shakhter Karagandy before their home Champions League play-off match against Celtic.

On Monday, a day before the Scottish side's 2-0 first-leg play-off defeat at the Astana Arena, the animal was sacrificed in the corner of the stadium by the home side before they commenced a training session.

At the pre-match press conference, the Kazakh club's Russian manager, Viktor Kumykov, acknowledged the "tradition" but was reluctant to discuss its precise nature. Shakhter travel to Glasgow to play the second leg next Wednesday night.

In a letter to Platini, Peta points to Uefa's claim to be "forward-looking" and Platini's own words describing Uefa's "duty to protect the game, the players and our values" and asks him to use his influence to stop any further slaughter in this season's Champions League and Europa League.

"We are deeply disturbed that a sheep was stabbed to death in an attempt to bring good luck to the Kazakh team," says Peta's associate director Mimi Bekhechi. "We hope Mr Platini will agree that animal sacrifice has no place in modern society, and we hope Uefa will act swiftly and decisively to ensure that the beautiful game is not further stained with the blood of animals."
August 23 2013, 17:41