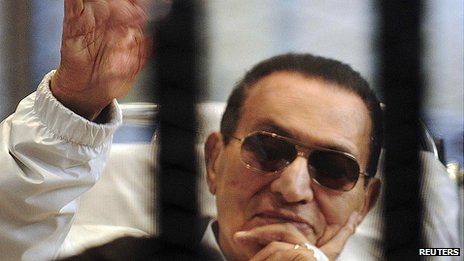 Hosni Mubarak has appeared frail in some of his court appearances
A court in Egypt is due to rule on whether to release the former president, Hosni Mubarak, on bail.

Mr Mubarak is appealing against his detention on a corruption charge.

The 85-year-old is also being retried on charges of complicity in the killing of protesters during the uprising that forced him from power in 2011.

Meanwhile, EU foreign ministers are meeting to determine a response to the deadly crackdown by Egypt's interim authorities on the Muslim Brotherhood.

Some called for the bloc's 5bn-euro ($6.7bn; £4.3bn) aid package to Egypt to be cut when more than 900 people were killed in clashes last week.

The deaths came after security forces cleared two sit-ins by people demanding the reinstatement of ousted President Mohammed Morsi.

But sources say ministers are likely to consider the military and security support provided by several European countries, and whether there might be a formal suspension of this across the bloc, reports the BBC's Matthew Price in Brussels.
The EU's foreign policy chief, Baroness Catherine Ashton, has offered to mediate a political solution to the crisis and is working on "confidence building measures" between the interim government and Brotherhood.

In Washington, senior officials discussed on Tuesday whether to reduce the $1.3bn (£830m) in military aid that the US gives Egypt every year. The meeting reportedly produced no imminent changes to US policy.

In a separate development, a Coptic Orthodox Church website has been hacked, apparently by Morsi supporters.

Copticpope.com site was taken offline after a picture of a group of pro-Morsi demonstrators appeared on its front page, with a text that read: "Nobody will rule Egypt but Islamists, God willing. Christians, [army chief Gen Abdul Fattah] al-Sisi supporters and thugs to hell."

Correspondents say the Church has been at a heart of recent events, with Coptic Pope Tawadros II supporting the overthrow of President Morsi.
Delay expected

Mr Mubarak, 85, was convicted in June 2012 of conspiring in the killing of protesters in 2011 and sentenced to life in jail.

But in January 2013 an appeal against his conviction was upheld and a retrial ordered.
That retrial opened in May but Mr Mubarak has served the maximum amount of pre-trial detention permitted in the case.

Mr Mubarak's lawyer Fareed al-Dib said he expected his client to be freed after a court ordered his release in one of the remaining corruption cases against him.

However, the public prosecution is expected to appeal against the release, potentially delaying his actual departure from the prison for several days.

The case relates to claims that the former president received gifts from state-run publisher al-Ahram.

Correspondents say his family has paid back the value of the alleged gifts, strengthening his lawyer's confidence that Mubarak will be released.

The appeals court will meet in the prison where Mubarak is being held.

"I will give my defence and if God is willing... there will be no reason for him to be held in temporary detention," Mr Dib told Reuters TV.

Analysts say Mr Mubarak's release, if it happens, would be seen by many as a sign the military is rolling back the changes that flowed from the 2011 uprising.

Egypt is under a state of emergency as the interim government cracks down on Islamists opposed to the army's ousting of Mr Morsi.

Last week, security forces broke up two Cairo protest camps set up by supporters of the Muslim Brotherhood with the loss of hundreds of lives.

The crackdown brought strong international condemnation.
Hundreds of members of the Muslim Brotherhood - the movement from which Mr Morsi comes - have been detained including its most senior leader, Mohammed Badie.

Mr Badie, who was wanted over alleged incitement to violence and murder, was arrested overnight on Monday in a flat in Nasr City in north-east Cairo, near the site of one of the protest camps broken up by security forces last week.

The Muslim Brotherhood has condemned his arrest and vowed to continue with peaceful protests.
August 21 2013, 14:45