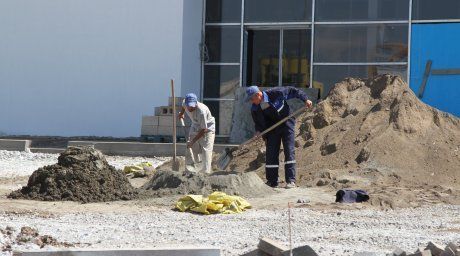 Kazakhstan plans to simplify issuance of work permits for labor migrants from neighboring countries, Tengrinews.kz reports, citing Serik Akhanov, Head of Migration Police.

"The current regulations in place prevent Kazakhstan's individuals from hiring labor migrants. Consequently, most of migrants from other Central Asian states work in Kazakhstan illegally. Upon arrival they specify visiting their friends or relatives as the purpose of their visit to Kazakhstan. To settle the related problems, the draft legislation seeks to simplify issuance of work permits for labor migrants willing to work as household personnel. Currently the draft legislation is being considered by the country's Majilis (lower chamber).

When passed, the law will have migrants getting out of the shadow, raising tax revenues for the state coffers. The stable economic situation in Kazakhstan lures migrants from neighboring countries, according to him.

He emphasized that the Customs Union and the ensuing Common Economic Space are removing barriers to movement of migrants within their borders. "In 2013 citizens of the Customs Union member states don't have to clear registration procedures while in another member state in the first 30 days. After the first 30 days they are issued a permit to sojourn for the period of their work contract. The member states have signed an agreement to prevent migration from third countries", Mr. Akhanov said.

According to him, "for the first 6 months of 2013 the Interior Ministry registered a total of 391 000 CIS citizens temporarily residing in Kazakhstan (81% of the overall number of migrants). Most of them are from Uzbekistan (242 000), Russia (69 000) and Kyrgyzstan (43 000)", Mr. Sainov said.

As of now, there are 21 000 valid work permits; most of them (3887) have been issued for citizens of Russia, followed by China (3758), Turkey (2469) and India (1451). "Back in 2011 the law enforcement bodies have identified 2177 employers illegally attracting foreign workforce. 2013 cases of illegal employment of foreign workforce were registered in 2012, with the number since the start of the year standing at 1211".
August 21 2013, 12:13