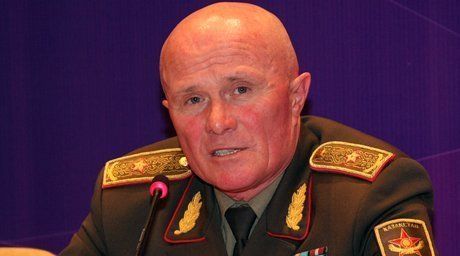 Vice-President of Kazakhstan National Olympic Commission Pavel Novikov.
Kazakhstan National Olympic Commission is working on submitting Almaty as a candidate-host of the Winter Olympics-2022, the Commission's Vice-President Pavel Novikov told Tengrinews.kz at a press-conference that was followed the commission's first meeting on participation of the bid.

November 14, 2013 is the deadline for submission of the application. After that a seminar for the bidding cities will be held before the end of the year. The seminar is traditionally held in the headquarters of the International Olympic Committee in Lausanne.

Six representatives of each city will take part in the observers program at the Sochi Olympics on February 7-23, 2014. "The representatives will check on the organization of food, entertainment, housing, medical and physical safety, sports program. Everything, even as far as the garbage recycling system," Novikov said. After that the cities will have until March 14 to submit electronic files with 96 pages of codes that should be observed by the cities willing to host the Olympics.

The International Olympic Committee will make is decision in July 2014 and shortlist the nominees leaving only the cities that pass the first stage to compete. The second stage will start in January 2015. It will include submission of documents by the shortlisted cities. Then, if Almaty successfully passes all the stages, the commissions will start visiting it in February 2015. They will check whether everything corresponds to the documents submitted by Kazakhstan. On July 31, 2015 the International Olympic Committee will select the city that will host the Winter Olympics-2022.

This is Kazakhstan third attempt to win the bid for Olympics hosting, Novikov reminded. "This is our best attempt. Kazakhstan and Almaty have never approached bidding for the Olympics so comprehensively. We held the Asian games. The Winter Universiade will be held in 2017. The Olympics would be a logical continuation. We are moving consistently and growing in strength. There is yet much to be done, but all this is realistic," he said.

According to the speaker, at least three new sport facilities will be built for the Olympics in Almaty: bobsleigh and luge track, roofed ice stadium and the Olympic village. However, the locations for the sites have not been defined yet. Novikov believes, that in general Almaty is attractive for the Olympic Commission because the city is very compact. However, the city administration still has to solve many issues, including dealing with the city's ecology (the air pollution is pretty heavy in Almaty). "Things have to be changed radically," Novikov said.
August 20 2013, 15:47