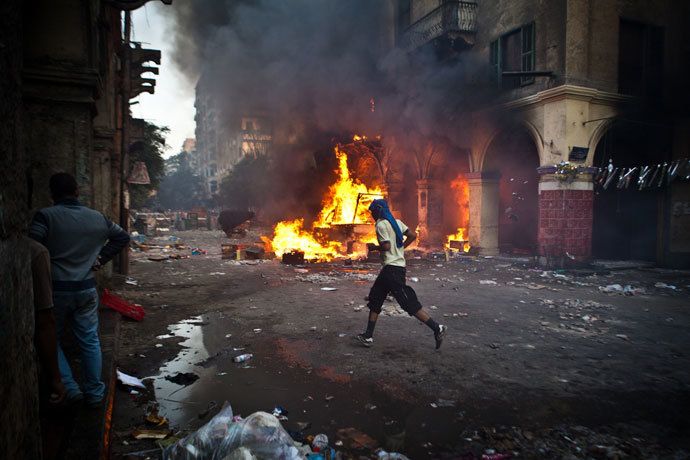 A supporter of the Muslim Brotherhood and of ousted president Mohamed Morsi runs past a burning vehicle during clashes with security officers close to Cairo's Ramses Square, on August 16, 2013.(AFP Photo / Virgnie Nguyen Hoang)
The Muslim Brotherhood may be banned in Egypt, the country's interim prime minister's spokesman said. The threat comes after the Islamist movement called for a week of protest against a military crackdown that left over 800 dead.

Egypt's current Prime Minister, Hazem el-Beblawi, proposed on Saturday that the Muslim Brotherhood be dissolved. The idea is being mulled, according to a government spokesman.

Beblawi proposed the dissolution to the minister of social affairs who heads up the ministry tasked with licensing non-governmental organisations. "It is being studied currently," Sherif Shawky said.

Morsi's Muslim Brotherhood brought tens of thousands of people to the streets across the country following traditional Muslim prayers in what it called a "Friday of Rage." In Cairo and other cities violent clashes erupted.

Overall, at least 173 people were killed Friday across Egypt, including some police and members of the security forces. This included 95 in central Cairo alone, a spokesperson said on Saturday. The official death toll from the violence now stands at more than 800 since Wednesday, when security forces evicted two large pro-Morsi sit-in camps in Cairo. The crackdown was the worst episode of violence in the country in decades, triggering condemnation from a number of international organizations and foreign governments.

The Brotherhood has called for protest demonstrations to continue every day for the next week.

"Our rejection of the coup regime has become an Islamic, national and ethical obligation that we can never abandon," the Brotherhood said in a statement.

Hundreds of pro-Morsi supporters barricaded themselves in the El Fath mosque in central Cairo's Ramses Square, where a major confrontation with the police took place Friday. Police are surrounding the mosque, saying that they would let women and children leave, but want to take male protesters into custody for questioning. The protesters refused these conditions and remained inside as of Saturday morning.

Police and protesters in the mosque are continuing negotiations for a possible resolution of the stand-off. But fears remain high that security forces may eventually storm the building, which would likely cause more casualties.
Egyptian security forces detained more than 1,000 people during Friday's protests, many of them armed, police said. More than half of the arrests were made in the capital. The streets of Cairo were quiet overnight, as police, pro-interim government militias and neighborhood watches sought to enforce a dusk-to-dawn curfew.

As the stand-off continues, both sides are seeking to rally supporters to their cause. Egyptian state TV has depicted the protest leaders as dangerous terrorists plotting against the country, and its footage of the clashes in Cairo showed people shooting firearms at police.

Meanwhile, Egypt's State Information Service (SIS) released a memo accusing the Muslim Brotherhood of "violent and terror acts" aimed at the "killing of innocent people and setting churches and public and private property on fire along with storming police stations and blocking roads."

The statement also "noticed that some media coverage has steered away from objectivity and neutrality that are internationally common."

Other reports said Morsi supporters used rockets in an attack on a governmental building in El Arish, a city in the turbulent Sinai Peninsula, and tried to shoot down a military helicopter flying over Cairo.
August 18 2013, 15:25