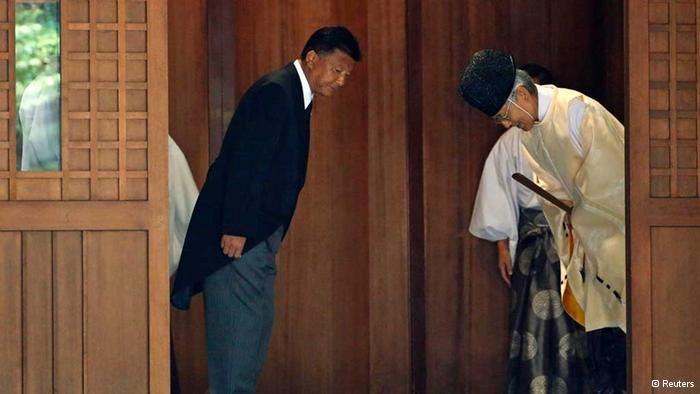 Japan has marked the 68th anniversary of its WWII surrender. In a compromise of sorts, Prime Minister Shinzo Abe did not visit a controversial shrine, but also did not explicitly apologize for past Japanese aggression.
Prime Minister Shinzo Abe and Emperor Akihito attended an annual ceremony in Tokyo commemorating soldiers and civilians killed during World War II. The precise number of deaths is not established 68 years after Japan's surrender, but is thought to lie between 2.5 and 3.1 million.

Abe also broke with tradition in his speech, omitting the explicit apology - typically using words like "profound remorse" or "sincere mourning" - for past Japanese aggression included in the premier's speech in recent years.

"I will never forget the fact that the peace and prosperity we are enjoying now was built based on the sacrifice of your precious lives," Abe said during a ceremony at an indoor arena in Tokyo.
He also did not make a common annual promise to "uphold [Japan's] pledge not to engage in war." China and South Korea have responded critically in recent months to Abe's call for a review of Japan's strictly pacifist post-war constitution.
Abe avoided another potential provocation to Japan's former foes, however, by not visiting the Yasukuni shrine honoring fallen Japanese soldiers - including 14 convicted war criminals. The prime minister sent an aide in his stead and paid for a commemorative tree branch out of his own pocket.

Two members of Abe's Cabinet did attend the shrine on Thursday (one of them, Internal Affairs and Communications Minister Yoshitaka Shindo, is pictured leaving at the top of this article), prompting China to summon the Japanese ambassador in Beijing and complain. Japanese politicians visiting the shrine "seriously harms the feelings of the people in China and other Asian victim countries," the Chinese foreign ministry said in a statement on Thursday.

Abe had said in the past that he regretted not visiting Yasukuni during his first one-year term as prime minister between 2006 and 2007. When asked in the run-up to Thursday's anniversary whether he would change that this year, Abe had said "since it would become a political and diplomatic problem, I cannot tell you that." Outside his stints as Japanese premier, Abe has visited the site.

Abe came to power after general elections last December, and was able to cement his position when his Liberal Democratic party fared well in elections to the upper house of parliament last month.

Japan formally surrendered on August 15, 1945 - with the surrender documents signed on September 2. The German surrender had been signed over three months earlier. Japan's capitulation followed the dropping of atomic bombs on the cities of Hiroshima and then Nagasaki that August.
August 15 2013, 15:06