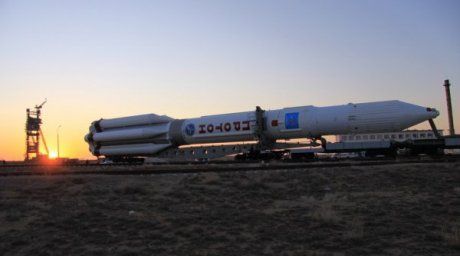 Baikonur cosmodrome. © RIA Novosti
Russia and Kazakhstan have failed to come to terms on the joint Kazakh-Russian project to construct the Baiterek ("poplar tree") space launch complex for the Russia's new booster rocket, the Angara, at the Baikonur cosmodrome, Russia's Izvestia newspaper reports.

"In fact it means the start of the decline of the cosmodrome still ranked first by the number of launches", the newspaper elaborates.

"The probability of the Baiterek project being brought to life is close to zero. The talks are not complete. However, it is clear that no mutually acceptable decision has been found. Kazakhstan suggests constructing the launch complex on parity basis: that is equally splitting the costs. In this case Russia's contribution would make $800 million, which is not profitable", the newspaper quotes a source in Russia's RosKosmos Space Agency.

Initially the Baiterek ("poplar tree") space launch complex was supposed to be constructed at Baikonur by 2013, following the testings of Angara booster rocket. In January 2011 construction of the launch complex was delayed to 2013. In July 2011 Vladimir Popovkin, Head of RosKosmos, announced that construction had been postponed to 2017.

"Full life at Baikonur will continue as long as Russia is working on the Vostochny cosmodrome infrastructure in the Russian Far East. Kazakhstan's Government has been calling the Baiterek project a major objective within its national space exploration project, but has refused to finance the project. To the best of our knowledge, KazKosmos Kazakh National Space Agency is working with Ukraine on possible supplies of Ukrainian Zenith booster rockets to use parts of Baikonur. Kazakhstan has been also considering purchasing a stake in Russia's Kosmotras that launches space vehicles using Dnepr booster rockets. These are little promising projects from our perspective", the newspaper writes, citing the source in RosKosmos.

Baikonur is the first and largest cosmodrome in the world. Located in Kazakhstan, it is rented out to Russia till 2050.

Baikonur is closer to the Equator than other launch sites – a situation that facilitates geostationary orbit or orbits less inclined to reach the International Space Station (ISS). This privileged geographic placement enables the launch of more significant payloads.

The cosmodrome has been rented out since 1994. Annual rent stands at $115 million.
Tengrinews.kz
October 8 2012, 12:44