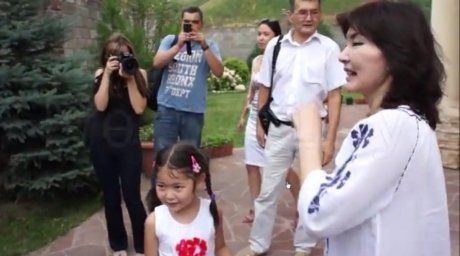 Five deputies of the Italian parliament from the Five Star MoVement arrived in Almaty on August 3 to meet with Alma Shalabayeva, the wife of former chairman of BTA Bank Mukhtar Ablyazov.

"We are here to see Mrs.Shalabayeva and her daughter who have been talked about a lot in Italy. And we would like to see personally how they feel and ask them directly what reality happened," one of the deputies said.

"So far we have only got the information (about deportation of Ablyazov's wife from Italy to Kazakhstan) provided by our government. It is very important for us to hear from Mrs.Shalabayeva herself about her situation," another deputy said.

"We are here to show a different Italy, democratic Italy," the third guest said.

On May 31 Alma Shalabayeva and her daughter Alua were deported by the Italian authorities for illegal stay in Italy with fake Central African passports and one and half months later the Italian authorities suddenly decided to reverse their deportation order.

After that incident two Italian parties expressed outrage to Italian Interior Minister Angelino Alfano and the Ministry's Chief of Staff Giuseppe Procaccini resigned.

Ablyazov's wife and daughter are currently under recognizance not to leave Almaty. Shalabayeva is involved in the separate case on forgery of Kazakhstan passports by her husband's relatives. Meanwhile, Kazakhstan authorities said that Shalabayeva may be allowed to return to Italy.

Mukhtar Ablyazov accused of embezzlement of $6 billion from BTA Bank was arrested on July 31 not far from Cannes. He was apprehended under the extradition request of Ukraine.

The Five Star MoVement (MoVimento 5 Stelle, M5S) is a political party in Italy launched by Beppe Grillo, a popular activist, comedian and blogger, and Gianroberto Casaleggio, a web strategist, on 4 October 2009. The party is populist, anti-corruption, environmentalist, and partially Eurosceptic. It also advocates participatory democracy, direct democracy, E-democracy, free access to the Internet, the principles of "zero-cost politics" and degrowth. The M5S's programme also contains elements of right-wing populism and American-style libertarianism. Party members stress that the M5S is not a party but a "movement" and it may not be included in the traditional left right paradigm. The "five stars" are a reference to five key issues: public water, sustainable transport, development, connectivity, and environmentalism.
August 6 2013, 09:45