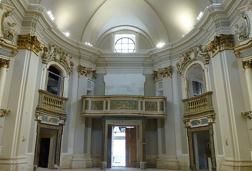 Baroque chapel in Italy restored thanks to grant of Kazakhstan
Thanks to a grant worth €1.7 million from the Government of Kazakhstan to Italy, the restoration of the ancient chapel of San Giuseppe dei Minimi, which was destroyed in 2009 during the earthquake in L'Aquila, Italy, has been completed.

Restoration works of the chapel, laid in 1646, lasted for 15 months, Lenta.ru reports with reference to The Art Newspaper.

The interior of San Giuseppe dei Minimi, which is a part of the complex that also includes the Basilica of San Giuseppe Artidzhano, is made in the Baroque style.

Kazakhstan is not the only participant in the restoration of buildings in the devastated L'Aquila region. Russia has allocated €7.2 million for the restoration of the 18th-century Palazzo Ardinghelli, France €6.5 million for the church of Santa Maria del Suffradzho and Germany €3.5 million for the Church of San Pietro Apostolo in the neighbouring town of Aquila Onna.

The earthquake in L'Aquila took place more than four years ago, but not all of the buildings in the city have been rebuilt yet. The reason is that the funds from the budget of the Ministry of Culture of Italy go to popular tourist projects.
July 30 2013, 12:44