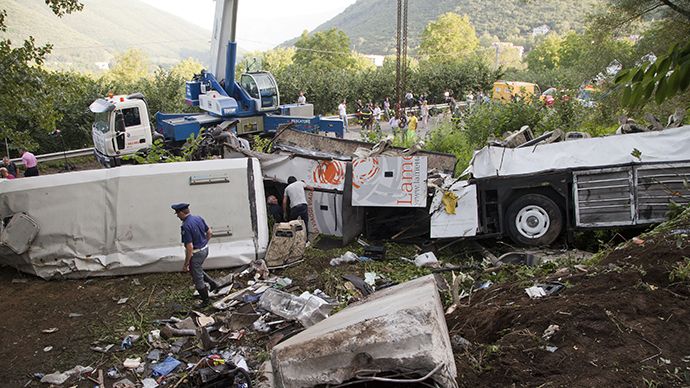 Police inspect remains of a bus crash on July 29, 2013 on the road between Monteforte Irpino and Baiano, southern Italy. (AFP Photo / Carlo Hermann)
At least 38 people have been reported dead and 10 injured after a bus skidded off a viaduct in southern Italy. Children are among the victims of the fatal crash.

The bus was traveling the A16 highway from the town of Canosa to Naples when the incident happened on Sunday evening. The vehicle hit several cars before running through the guard rail and falling more than 25 meters down a slope, Italian media reported.
Up to 50 people were on board the bus at the time of the crash, according to La Repubblica newspaper.

Preliminary reports said seven of them - including the driver - died in the incident, but the death toll rose as the rescue operation continued, ANSA news agency reported.

Thirty-two bodies were recovered from the damaged bus while three others were found underneath it. One of the passengers was pulled out alive but succumbed to her wounds at the scene.
Eleven people were rescued from the crashed bus and taken to hospital. Two men, six women, and three children are among the survivors. All of them are in serious condition, the agency said.

First responders had difficulties pulling victims from the wrecked bus. The viaduct was damaged by the vehicle, thereby loosening pieces of concrete which threatened to fall on emergency teams.

The site of the crash near the town of Avellino is difficult to reach, making the rescue operation even more challenging.

Police cordoned off the part of the highway where the crash happened.

The passengers were travelling back to Naples from a pilgrimage dedicated to St. Pio of Pietrelcina - popularly known as Padre Pio.
July 29 2013, 14:25