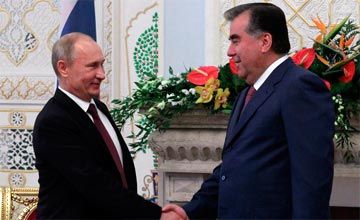 Russia won a 30-year deal on a military base in Tajikistan, but the price includes risk of placing Russian servicemen under fire if violence flares up in volatile Central Asia.
Moscow and Dushanbe clinched an agreement on Friday on a Russian military base in Tajikistan, which will remain in the country until at least 2042, a Russian presidential aide said.
The agreement, which followed months of haggling, is a success for Russian diplomacy, Russian and Western analysts said.
But it also means that Russia agrees to use military force to maintain peace in Central Asia, a region that is set to grow much more turbulent after the US forces pull out of Afghanistan in 2014, pundits said.
The deal was sealed during a meeting of Russian President Vladimir Putin with his Tajik counterpart Emomali Rahmon in the Tajik capital of Dushanbe, Putin's aide, Yury Ushakov, said.
The current agreement on the base was set to expire in 2014, but was prolonged for 30 years, with the option of repeatedly extending it for five years after that date, Ushakov said. Russia sought to extend the deal for 49 years, while Tajikistan wanted to limit it to 10 years, RIA Novosti reports.
Media reports said earlier Tajikistan wanted $250 million a year to host the base, which hosts 7,000 troops across three locations. But Ushakov said on Friday that Russia would get the base "almost free of charge." He gave no further details.
October 6 2012, 13:06