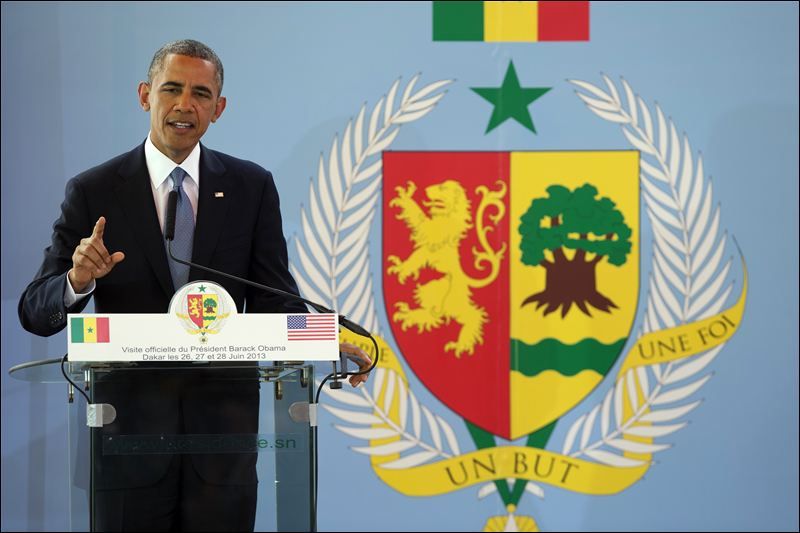 President Obama sought Thursday to minimize the significance of a fugitive former national security contractor wanted for leaking government secrets, calling him a "29-year-old hacker" and suggesting that American frustration with China and Russia for apparently helping him evade extradition was not worth damaging relations with those countries.
Mr. Obama's remarks, his most extensive comments on the fugitive, Edward J. Snowden, came as new confusion swirled over Mr. Snowden's ultimate destination, with Ecuador's government saying it could not decide on his request for asylum unless he was in that country or one of its embassies elsewhere.

Mr. Snowden, who turned 30 last week, has been ensconced out of sight at an international transit lounge in a Moscow airport since Sunday, when he arrived from Hong Kong despite an American effort to extradite him on criminal charges. There had been speculation that he would board a Havana-bound flight on Thursday, but he did not, raising the possibility that his legal limbo could stretch into weeks in his odyssey to reach a third country.

Mr. Obama, speaking to reporters in Dakar, Senegal, at the start of a trip to Africa, said he had not personally called the presidents of China or Russia on the Snowden case because he did not want to elevate its importance. He said other nations should simply be willing to return Mr. Snowden to the United States as a matter of law enforcement.

"This is something that routinely is dealt with," Mr. Obama said. "This is not exceptional from a legal perspective. I'm not going to have one case suddenly being elevated to the point where I have to do wheeling and dealing and trading."

He rejected the suggestion that he might order the military to intercept any plane that might be carrying Mr. Snowden. "I'm not going to be scrambling jets to get a 29-year-old hacker," Mr. Obama said.

His remarks on Mr. Snowden's case followed similarly toned-down language by his aides on the severity of the problem, reflecting efforts by the administration to smooth relations with Russia and China. Earlier in the day, China's Defense Ministry accused the administration of hypocrisy, using Mr. Snowden's disclosures about American surveillance abroad as evidence that China is a victim, not a perpetrator, of cyberspying and hacking.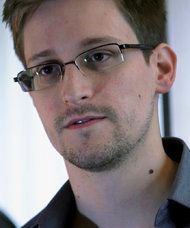 Edward J. Snowden, the ex-contractor for the N.S.A. @the GuardianMr. Snowden's disclosures have embarrassed the administration and raised debate about the government's invasion of privacy. Mr. Snowden and his supporters, including WikiLeaks, the anti-secrecy group, have called him a whistle-blower and a hero. Federal prosecutors have charged him with violating espionage laws, and some American legislators have called him a traitor.

Ecuador, which is protecting Julian Assange, the WikiLeaks founder, at its London embassy, has confirmed that Mr. Snowden has requested asylum and has suggested that his human rights could be violated if he were returned to the United States. But Ecuador, which had said it could take months to evaluate the asylum request, suggested Thursday that all the attention focused on its decision was misplaced.
"Mr. Snowden is not in Ecuadorean territory and to process an asylum request that is what is required," the country's president, Rafael Correa, said during a news conference on Thursday in Quevedo, in western Ecuador. "We received the asylum request, we have studied it and that is precisely the first conclusion, that to process it to finally approve it or deny it he must be in Ecuadorean territory."

Asked if he had considered bringing Mr. Snowden to Ecuador or to one of his country's embassies, he said, "No."

Mr. Correa also disputed assertions made earlier in the week by Mr. Assange and others that Mr. Snowden had been given travel documents by Ecuador that assured him safe passage to the country.

"The government has not authorized any safe-conduct or refugee permit for Mr. Snowden," Mr. Correa said. Referring to a safe-conduct document that appeared to have been issued by Ecuador's embassy in London, he said that if it turned out to be authentic, "whoever issued it is totally without authority."

Saying they would not bow to threats, officials in Ecuador also announced that they were unilaterally renouncing preferential trade privileges given to the country by the United States. Those privileges, which apply to Ecuadorean exports worth hundreds of millions of dollars, were to expire at the end of July, and were unlikely to be renewed by Congress because of the strained relationship between the two countries. Senator Robert Menendez, Democrat of New Jersey and chairman of the Senate Foreign Relations Committee, warned Ecuador on Wednesday that its "trade preferences could be revoked" if it granted Mr. Snowden's asylum request.

Russian officials have said they consider Mr. Snowden a free man and have hinted that they were pressuring him to leave. President Vladimir V. Putin said Tuesday that "the sooner he chooses his final destination, the better for us and for him."

Whether he is feeling pressure to leave is unclear: a Russian immigration official close to the situation said that Mr. Snowden was entitled to stay in the airport as long as he wanted, even though he has not asked for a Russian visa or received one.

An extended stay in Russia would seem to narrow Mr. Snowden's options, allowing American officials to dangle carrots and sticks before countries like Ecuador and Venezuela that are considering granting him asylum.

A buzz of suspense surrounded Flight 150 to Havana on Thursday at Sheremetyevo airport in Moscow, with expectations that Mr. Snowden would be a passenger.

But no unusual security measures were visible as passengers boarded the flight, with two dozen reporters and photographers pressed against the terminal window as the plane backed away from the gate. Journalists from Reuters and ABC, who had booked tickets in hopes of interviewing Mr. Snowden, said it appeared that he was not on board.
June 28 2013, 10:40