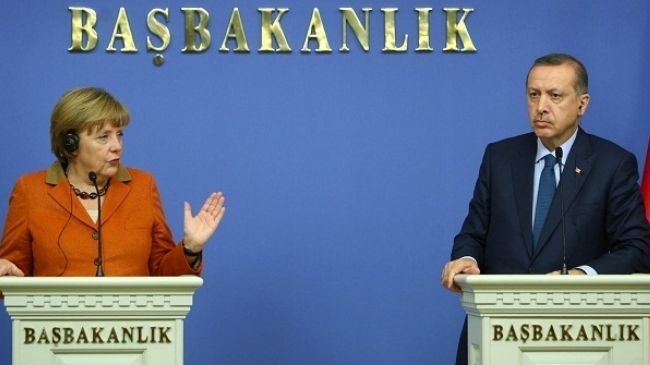 German Chancellor Angela Merkel (L) and Turkey's Prime Minister Tayyip Erdogan at a joint news conference in Ankara, Turkey on February 25, 2013
Germany has blocked the start of European Union talks with Turkey over Ankara's heavy-handed response to weeks of anti-government protests.

At a meeting of EU ambassadors in Brussels on Thursday, Germany blocked moves to open a new chapter in Ankara's EU membership talks next week, an unnamed EU diplomat said.

"The Germans have to report back home but it seems they are leaning towards not opening the chapter," the EU diplomat said, speaking on condition of anonymity.

"The ongoing protests obviously had an impact on the decision," the diplomat added.

All 27 EU members must agree whether to move forward on membership talks.

Ankara criticized Berlin over the move, shrugging it off as German Chancellor Angela Merkel's "election campaign."

"If Mrs. Merkel is looking for domestic political material for her elections, that material should not be Turkey," Turkey's EU minister Egemen Bagis told reporters on Thursday.

"If Mrs. Merkel looks into it she will see that those who mess about with Turkey do not have an auspicious end," he said, apparently referring to former French President Nicolas Sarkozy, an opponent of Turkish membership who failed last year to win a second term in office.

Parliamentary elections in Germany have been slated for September.

On Monday, Merkel said she was "shocked" Ankara's crackdown on anti-government protests.

"What's happening in Turkey at the moment doesn't conform to our understanding of freedom to gather and free speech," Merkel told German broadcaster RTL.

"There were some terrible pictures in which you can see that action was taken that in my view was much too heavy-handed," she said.

Turkey began EU accession negotiations back in 2005. It has not much progress largely because of French and German resistance and Turkey's tensions with Cyprus.

The unrest in Turkey erupted after police broke up a sit-in staged at Taksim Square on May 31 to protest against a government plan for the redevelopment of Gezi Park.

The Turkish prime minister has faced international condemnation for his handling of the unrest. Turkish police have also been strongly criticized for using excessive force against the peaceful protests.

Five people, including a police officer, have reportedly died in the clashes and more than 5,000 protesters and 600 police officers have been wounded.
June 21 2013, 11:36