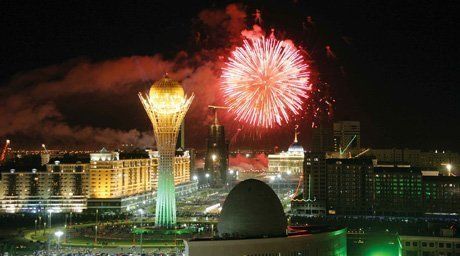 No foreign and even no Russian singers will arrive to Astana to participate in concert dedicated to the Astana Day, Director of Baiterek media group preparing Astana's 15th anniversary Zhanar Kolbacheva told Tengrinews.kz.

"Every year we arrange concerts of foreign stars funded by sponsors, but this year there will be no such concerts as we lack investors. So, the shows of French singer Patricia Kaas, Turkish singer Tarkan, English quartet II Divo, London Royal Symphony Orchestra and Russian stars will not take place" on Astana day, Kolbachayeva said.

Only Kazakhstan artists will perform at the celebrations. Festival of nomadic civilization Millenniums around Astana, festival of Turkic music Astana Arkau, concert of traditional music Astanaga tartu (Attracting to Astana) and festival of folk instruments Serper (name of a famous national instrumental piece) will be among the anniversary events.

The city administration is planning to hold about 50 city-wide and about 20 district-wide events including Ayalagan Astana (Cherished Astana) children's contest, Astana Cycling Cup, Asyk Atu (national game) tournament Altyn Saka (Golden peever), various culinary exhibitions and competitions, art shows and parades of cultural-educational nature.

Russian Sergey Bezrukov Theatre will become one of the most remarkable events on the 15th anniversary of Astana. They will perform Cyrano de Bergerac by Edmond Rostand in Astana. Elizaveta Boyarskaya, Sergey Koshonin and Sergey Gamov will play the leading parts.

Five KVN (Club of the Cheerful and Sharp-Witted) teams of Premier League will sparkle the celebration with humor.
June 20 2013, 12:32