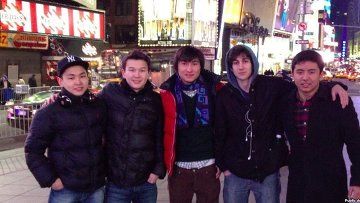 @Facebook
The open letter to the United States President Barack Obama in support of the two Kazakh students currently kept in custody over attempts to obscure justice in the Boston Marathon Bombing case, was signed by public figures and youth of Kazakhstan, said the initiators from the Aldaspan Intellectual Club.
As previously reported, FBI arrested Azamat Tazhayakov and Dias Kadyrbayev who tried to destroy evidence from the dorm room of Dzhokhar Tsarnayev suspected in carrying out the bombing, to what they confessed.
The items they had thrown to a trashbin, were later found by US special services at a dump.
Both Kazakh citizens were familiars of Tsarnayev. They all were students of UMass Dartmouth.
Now they face up to five years in jail.
"We demand unbiased investigation and fair trial for the two citizens of Kazakhstan. These rights are provided by all international documents, including the US-ratified UN's international covenant on civil and political rights. We urge the United States to fulfill its international liabilities," the message reads.

"Recently, we witnessed how some American media produced various provocational materials on this case. We, therefore, demand that Federal Bureau of Investigations, as well as the United States Attorney's Office issue an official explanation on the case, as citizens of Kazakhstan express concerns," the letter reads.

The signees stressed that "by no means they are going to press on the American investigation and justice".
Also they extended condolences due to tragic consequences of the terrorist act.
KAZINFORM
June 5 2013, 12:13