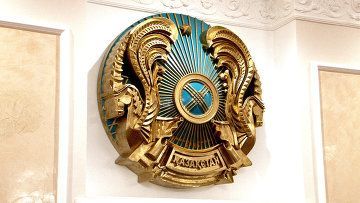 Today, June 4, Kazakhstan celebrates the day of its national symbols.
The national symbols in use nowadays, were introduced on June 4, 1992 and in accordance with a presidential decree, it is an official holiday, but a workday since 2007.
The national flag of the Republic of Kazakhstan has a gold sun with 32 rays above a soaring golden steppe eagle, both centered on a sky blue background; the hoist side displays a national ornamental pattern 'koshkar-muiz' (the horns of the ram) in gold. The flag was designed by Shaken Niyazbekov.

The coat of arms is an image of shanyrak, the upper dome-like portion of a yurt, against a sky blue background which irradiates (in the form of sun rays) uyks (supports) set off by wings of mythical horses. The circle shape of the Emblem is a symbol of a life and eternity. The shanyrak symbolises well-being of family, peace and calmness. The name of the country in Kazakh, 'ҚA3AҚCTAH', is in the lower part of the coat of arms. The authors of the emblem are Jandarbek Melibekov and Shota Walikhanov.

On January 7, 2006, "My Kazakhstan" ("Менің Қазақстаным"), written in 1956, was adopted as a new anthem, with modified lyrics.
June 4 2013, 10:31