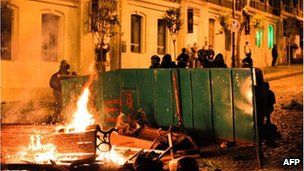 Turkish protesters have clashed with police in Istanbul's Besiktas district, in some of the worst violence since unrest erupted three days ago.

Mosques, shops and a university have been turned into makeshift hospitals to deal with the injured.

Protesters tore up paving stones to build barricades, and police responded with tear gas and water cannon.

Protests were sparked by plans to build on an Istanbul park, but have broadened into nationwide anti-government unrest.

Officials say more than 1,700 people had been arrested during protests in 67 towns and cities, though many have since been released.

Late on Sunday, the White House said in a statement that all parties should "calm the situation", and reaffirmed that peaceful demonstrations are "part of democratic expression".

The US previously criticised the security forces for their initial response to the protest.
Roads sealed off

The BBC's Louise Greenwood in Istanbul says several thousand people took part in the protest outside the recently decommissioned Besiktas football stadium.

She says some of the protesters were coughing violently and vomiting after police fired gas canisters into the crowd.
According to the Turkish Doctors' Association, 484 protesters have been treated in hospitals in Istanbul since Friday.

Nearby, police were also battling to protect the prime minister's office, which has become another focal point for the protesters.

They have reportedly sealed off roads surrounding Mr Erdogan's office in a bid to push back protesters.

Unrest was also reported in the capital, Ankara, and protests took place in dozens of other towns and cities.

Police raided a shopping complex in central Ankara where they believed demonstrators were sheltering, Reuters news agency reports.
'A few looters'

Many of the protesters in Istanbul appear to be young, urban middle class, annoyed at what they see as Prime Minister Recep Tayyip Erdogan's move towards Islamisation.

Last week the government passed legislation curbing the sale and advertising of alcoholic drinks.

Mr Erdogan says the protesters are undemocratic and were being provoked by the opposition Republican People's Party (CHP).

Speaking in a televised interview on Sunday, the prime minister dismissed those taking part in protests as "a few looters" and strongly criticised social media sites, singling out Twitter, which he said was "an extreme version of lying".

On Sunday, the area around Gezi Park, where the protests first erupted, was largely peaceful.

Protests over the demolition of the park to make way for the rebuilding of an Ottoman era barracks began on a small scale earlier this week.

But after police used tear gas and water cannon to disperse demonstrators, triggering accusations of excessive force, the numbers in nearby Taksim Square rocketed.

At the weekend, tens of thousands of people took to the streets in towns and cities calling on the government to resign.
June 3 2013, 10:28