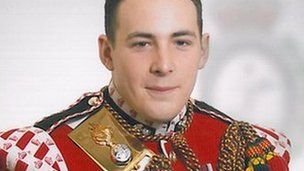 On Sunday, Drummer Rigby's family visited the spot in Woolwich where he was murdered
Three man arrested in south London on Saturday in connection with the murder of Drummer Lee Rigby have been released on bail, Scotland Yard has said.

The men, aged 21, 24 and 28, who were arrested on suspicion of conspiracy to murder, have been bailed to return later to a police station in London.

Two men arrested on suspicion of murder at the scene of Wednesday's killing in Woolwich remain in custody.

A 22-year-old man arrested on Sunday in north London is also still being held.

His arrest by counter-terrorism police in the Highbury Grove area on suspicion of conspiracy to murder was the ninth arrest as part of the investigation.

The other three people - a 29-year-old man, a 31-year-old woman, and a 29-year-old woman - were arrested on Thursday on suspicion of conspiracy to murder. The two women were released without charge on Friday, and the man was released on bail on Saturday pending further inquiries.
Kenya arrest

The two murder suspects, Michael Adebolajo, 28, and Michael Adebowale, 22 - both Britons of Nigerian descent who are understood to be converts to Islam - remain in custody in hospital in a stable condition after being shot and wounded by police at the scene after the killing.

Shortly before his arrest, Mr Adebolajo was filmed by a passer-by saying he had carried out the attack because British soldiers killed Muslims every day.

On Sunday the Foreign Office confirmed it had given consular assistance to suspect Mr Adebolajo when he was arrested in Kenya in 2010.

Kenyan government spokesman Muthui Kariuki told the BBC he was believed to have been preparing to fight with Somali militant group al-Shabab.
In video footage of his court appearance, Mr Adebolajo is heard to say: "These people are mistreating us, we are innocent."

Mr Adebolajo was then handed over to "British security officers" when it emerged he was a UK citizen, Mr Kariuki added.
BBC world affairs correspondent Caroline Hawley said confirmation of the arrest would renew the pressure on the UK security services over how much they had known about Mr Adebolajo and whether more could have been done to prevent Drummer Rigby's killing.

Meanwhile, Downing Street has insisted that Prime Minister David Cameron is being kept fully informed about the investigation after he was criticised by newspapers for going on a family holiday to Ibiza.

A spokesman said that Mr Cameron, who flew to the Spanish island on Saturday and is due back next weekend, had a small team of officials with him and could return at any time.
Floral tributes

On Sunday members of Mr Rigby's family visited the scene of the killing, laying flowers at Woolwich Barracks where the 25-year-old drummer with the Royal Regiment of Fusiliers was based.

They laid flowers at Woolwich Barracks where they hugged and comforted each other as they looked at some of the many thousands of floral tributes that have been left in his memory.

They then crossed the road to look at the exact spot where he was killed.

One family member clutched a teddy bear, while others held baskets of flowers which they left at the scene.

A few hours later, several hundred people gathered there during an organised community event with some waving Help for Heroes flags and chanting Drummer Rigby's name.
May 27 2013, 11:19