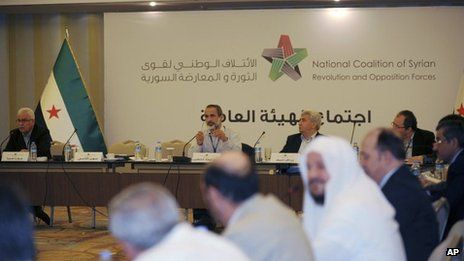 Mr Khatib (centre) said he wanted to stop "the further decay of the Syrian people"
The outgoing leader of Syria's main opposition coalition Moaz al-Khatib has put forward a detailed plan for the transition of power
Mr Khatib's proposal comes as opposition delegates begin three days of key talks in Istanbul.

The proposal stipulates that President Bashar al-Assad must leave office, a demand likely to be rejected by Mr Assad and his key backer, Russia.

The UN estimates at least 80,000 people have died in the uprising so far.

Mr Khatib's proposal calls for Mr Assad and his family to be given a safe exit if he stands down.

The Syrian president would have 20 days to accept the offer, under the terms of the initiative, which would then allow Mr Assad a further month to hand over power to his prime minister or vice president.

Mr Khatib was elected head of the National Coalition in November 2012 but is shortly to step down, having resigned in March.

However, Mr Assad has made clear that he has no intention of standing down, and indeed plans to stand in presidential elections in June 2014, the BBC's Jim Muir reports from Beirut.
With Mr Assad's forces currently making some gains on the ground, he is clearly in no mood to concede defeat by what he regards as a foreign-backed conspiracy, our correspondent says.

The Syrian government, backed by Russia, has said it will not accept any preconditions for talks. However, the opposition leadership, largely made up of exiles, risks losing what little credibility it has inside Syria if they abandon the demand for Mr Assad to step down, he adds.
Hezbollah involvement

The talks in Istanbul are aimed at revamping the own membership and leadership of the National Coalition for Syrian Revolutionary and Opposition Forces.

They come amid intensifying diplomatic manoeuvres to try to bring about an end to the conflict.

Also on Thursday, further reports emerged about the involvement of the Lebanese Shia militia Hezbollah in the conflict on the side of the regime.

A source close to Hezbollah told the AFP news agency that 75 fighters had died in Syria since late last year.

The UK-based activist group the Syria Observatory for Human Rights (SOHR) puts the figure of dead Hezbollah fighters even higher, at 104.

There have been reports of Hezbollah's involvement in the conflict for months but the militia has recently admitted sending fighters for the first time, in fighting over the key strategic town of Qusair.

The Local Co-ordination Committees, a network of activists in Syria, said 53 people had died in violence in Syria on Thursday.
May 24 2013, 09:56