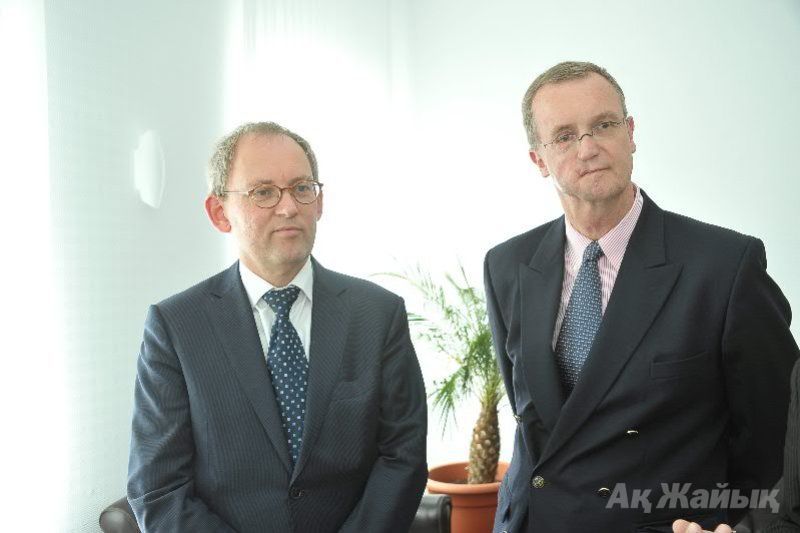 Arjan van Dijk (L) and Hans Bakker
By Laura Suleimenova
As previously reported the NCPOC managing director will be changed on July 1. In place of Hans Bakker, another Shell top manager Arjan van Dijk is coming.
"Starting June 1, I am leaving the post of managing director. These were interesting and exciting 5 years. I have never worked so long anywhere as I did in Atyrau Oblast. I saw how North Caspian project was developing and maturing. It is especially sad to leave it before the very start of production," Mr Bakker said meeting the Atyrau Oblast governor Baktykozha Izmukhambetov.

Bakker made no secret that over the course of project's completion there were challenges:
"I believe, all the difficulties will be forgotten soon. Production will start to the benefit of not only stakeholders of the consortium, but Kazakhstan as well."

Arjan van Dijk, his successor, said preparation for the first oil at Kashagan is going by plan. However, it needs time to resolve all safety issues.
To recall, our sources said the substitution of a NCPOC chief just before the first oil is caused by Mr Bakker's failure to find a common language with other agent companies and the project operator - NCOC, and ministry of oil and gas.
Five years ago, he was assigned to Kazakhstan from a position of general director of Shell Gabon, a joint venture of Royal Dutch Shell Plc and the Gabonese government.
In March 2008, the company's operations stalled following a many-day strike organized by a local oil and gas trade union.
Strikers demanded that Hans Bakker resigns and put forward a few social claims, forcing the company to satisfy their ultimatum. In the result the JV lost 30 billion francs.





May 23 2013, 11:44