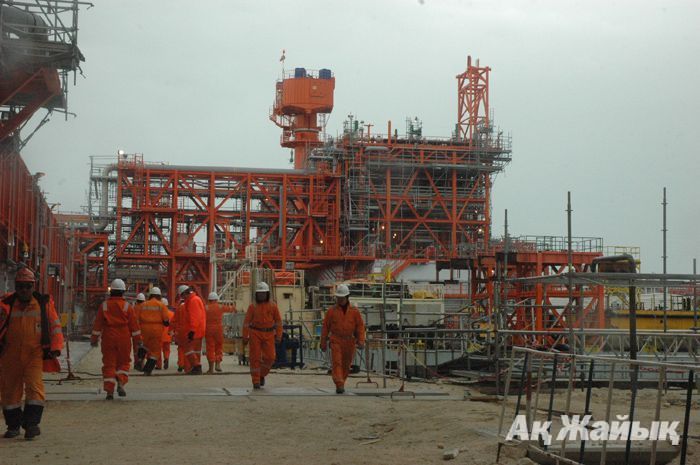 North Caspian Production Operations Company (NCPOС) Managing Director is expected to be replaced effective June 1, reports azh.kz.
"On June 1, I am leaving the position of Managing Director. These were the most interesting and exciting 5 years in Atyrau. I have never worked anywhere this long. I was the witness of the project development and how it matured. It is especially sad to leave the project when it is at its stage of launching," - said Hans Bakker, NCPOC Managing Director, on Thursday during his meeting with Baktykozha Izmukhambetov, the Governor of Atyrau Oblast.
According to Bakker, the perspectives of the project are good, notwithstanding some of its complex issues.
"We faced a number of difficulties. But I think these difficulties will soon be forgotten. The commercial production will start not only for the benefit of its shareholders, but also for the benefit of the Republic of Kazakhstan," – he added.
Bakker said that he will be replaced by Arjan van Dijk, new NCPOC managing director.
In his turn, Arjan van Dijk, currently the NCPOC Deputy Managing Director, expressed his opinion about the Kashagan project and the preparation activities for start-up: "Preparation for the start-up is very good. We need some time to start the operations in more safer manner, though the challenges we are facing are quite complex."
As previously reported, Kashagan oilfield may face structural changes as well.
"Currently we are discussing the potential of those structural changes. Particularly, the issue of amalgamating NCOC with the production company NCPOC. It is possible that the plant construction scope will be taken away from Agip and be given to another company,"- said the source in Astana to KazTAG agency.
"Everything now depends on the date of commercial production of crude. If operators are talking about September-October, then in Astana they are pushing for the beginning of July,"- added the source.
The source was also aware of the RoK Oil and Gas Minister Sauat Mynbaev asking the Atyrau Oblast authorities to persuade the oil consortium to start the production on beginning of July. "Expats are feeling very nervous, they are not used to work for "a fixed date," – noted the source.
"Changes in the company will allow persuading the Kazakhstan authorities that only after structural changes they can start commercial production and, therefore, have a delay,"- clarified the source.
KazTAG earler reported that the deadline for commercial production at Kashagan is September this year.
The participants of the Kashagan project are Exxon Mobil, Royal Dutch Shell, Eni, Total and KazMunayGas each holding 16.81%, ConocoPhillips with 8.4 % and Japan's Inpex Corp with 7.55%. The project is operated by the North Caspian Operating Company B.V. (NCOC).
NC Production Operations Company B.V. (NCPOC) is one of the four Agents in the North Caspian Production Sharing Agreement (NCSPSA) venture.
The designated scope for NCPOC includes Operations and Maintenance, and provides common support services for NCSPSA venture partners.
May 17 2013, 13:20