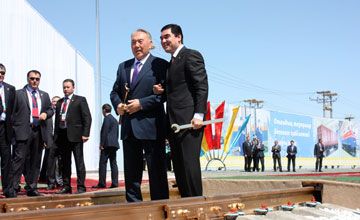 MANGYSTAU REGION. May 11. KAZINFORM - At the moment Nursultan Nazarbayev, the president of Kazakhstan and his Turkmen counterpart Gurbanguly Berdimuhamedov are opening the through railway service the "Bolashak station (Republic of Kazakhstan) - Serhetyaka station (Turkmenistan)".

"I am delighted to welcome the fraternal people of Turkmenistan and the delegation presenting here. We met at a momentous time of comissioning the direct transcontinental object that has historical significance for the two countries. This is about the establishment of the through railway service between Kazakhstan and Turkmenistan. The new line is the shortest way to deliver cargo", said Nursultan Nazarbayev.

The "Bolashak-Serhetyaka" line section is a part of the transnational railway corridor that will connect Kazakhstan, Turkmenistan and Iran. It will provide land flow of cargo access to the sea routes in the Persian Gulf region.

In the structure of cargo flow on an open railway crossing, as it was announced at the meeting of the heads of the states, grain, oil and oil products will prevail. The railway section capacity is 10 million tons per year.

As it is known, the new line "Zhanaozen - the state border with Turkmenistan" will make the route 600 km shorter than the existing railway via the Turkmen city of Sarahs. The project implementation in Iran relating to the new railway called "Bafq-Meshhed" will reduce the range of freight traffic between the Persian Gulf and the Far East for 1300 km.

At present, according to the existing Agreement between the three countries the interstate project is in the final stage of implementation.
May 11 2013, 14:11