By Zulfiya Bainekeyeva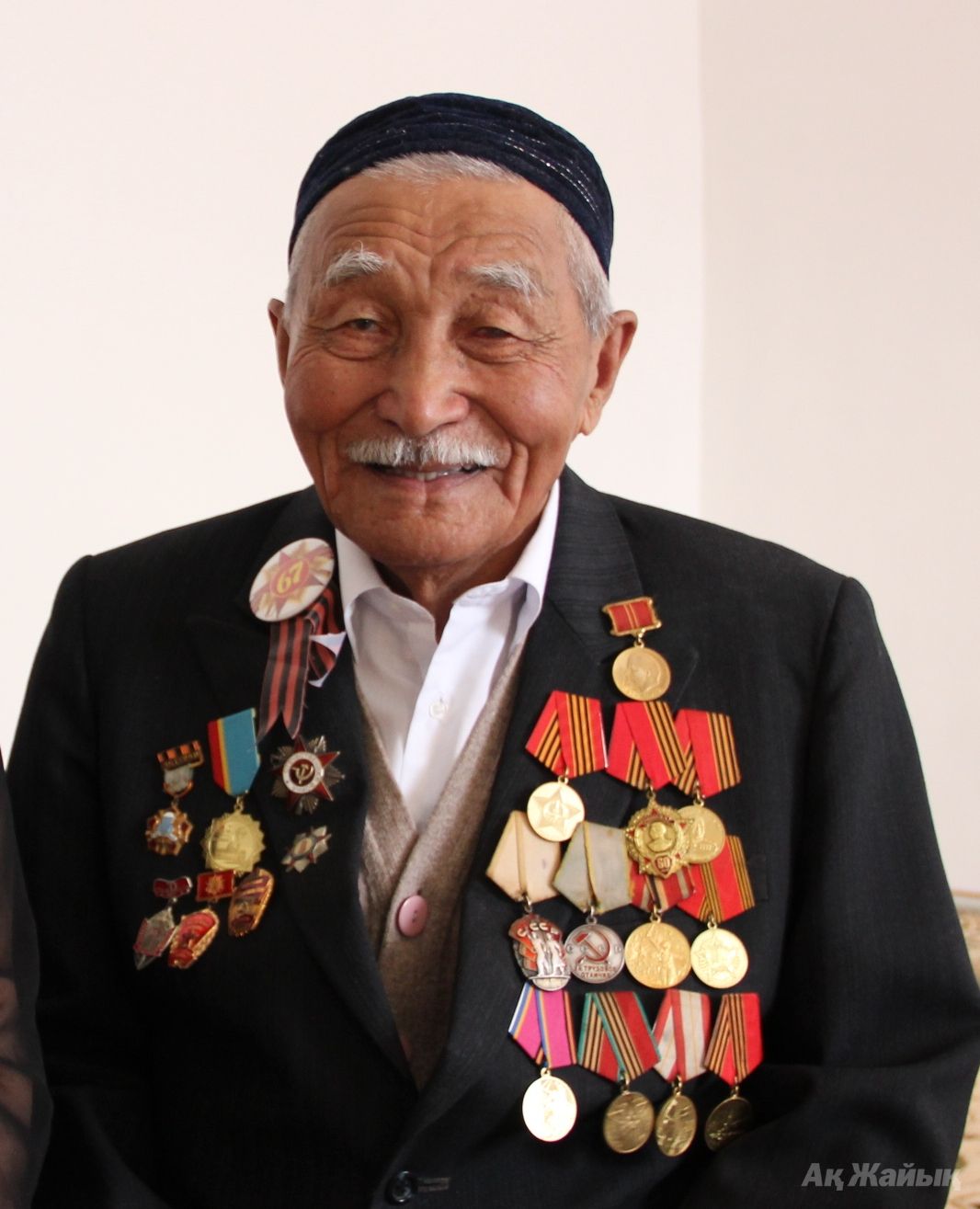 It wasn't easy for me to get hold of the Grandad for taking an interview. He was "hardly accessible". His schedule was very tight: 90-year old veteran of war and oil industry and, since recently, newlywed Kourmanbai Dosymbetuly (or Kurmanbai-ata) is either staying out or, on the contrary, giving party in his house. I arrived to Akzhar village on Friday afternoon. I opened the door of the small tidy house and was immediately enveiled with clouds of "beshbarmak" - meat a la Kazakh. Just as I thought, Grandad again was entertaining guests in his house!
MEMORY AS CLEAR AS DIAMOND
Three guests sitting with the granddad at a low table and "washing down beshbarmak" appeared to be creative professionals: the film director "was shooting a documentary on a military subject" and was visiting the old man with his support group. He was, probably, gathering materials for the documentary, because when the old man started to tell his story beginning from April 15, 1923- from the day when he was born, the director dispiritedly and in a drawling manner said: "the second sequel…" But in my opinion, the old man is absolutely amazing! Especially his mind, which is as clear as diamond.
He tells his story with half-closed eyes, as if he is reading a book of his life: "My father was a peasant and my mother was a housewife. They had two children: me and my sister. I studied for 7 years in the secondary school in Talgairan village (Atyrau Oblast) and after that was enrolled into tractor driver courses. From 1941 till 1942 I worked as a motorist on well No.13 and when we produced the first oil, our foreman Outen Nourashev received custom engraved wrist watch. "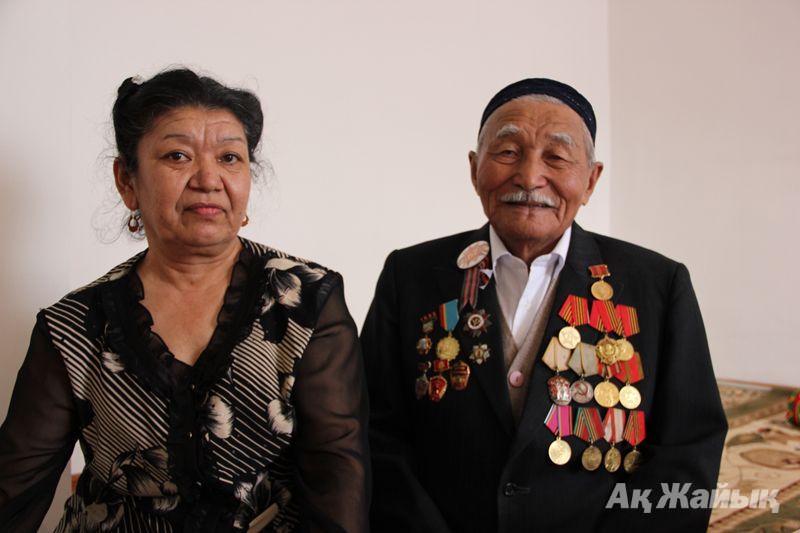 Kourmanbai-ata with his spouce Goulnar
To interrupt or ask questions in this house is not advisable: "If you start interrupting, then I might forget something. This will put me into an awkward situation!"- says strictly Kourmanbai-ata ("ata" - respected form of address to old men - WKT). So, I leave my questions for later.
"MASTER OF SUSPENSE"
But in the middle of his story about an Italian hiding in the bushes, "the master of suspense" Kourmanbai-ata drove me to shriek. But let me be sequacious in my story.
"On May 15, 1942 I was called up for military service directly from the registration point. For 20 days we were kept in quarantine, and then we were transferred to the Guriev military-infantry school. After 6 months of training we were sent to the war in accordance with Stalin's Order # 217 about sending men born in 1921-1923 to the front."
I am doing a big effort in shortening Kourmanbai-ata's story, who remembers every little detail: names of locations, quantities and numbers, surnames and names of his comrades-in-arms and commanding officers…
SECOND BIRTH
So, 19 year-old Kourmanbai was sent to Stalingrad front to the 35th Guards Division of the 101st Guards Rifle Division as a machine-gunner. He spent 4 months in battle fileds for the defence of Stalingrad. The war-paths brought him to the village of Arbouzovka where he, together with another 7 soldiers, was briefed on a mission to terminate the Italian landing troops.
"The Germans were fleeing and we were chasing them, when between our 35th and 44th divisions the enemy dropped Italian troops from the air. I was hauling my Maxim gun through the grass that was as high as a man, and suddenly I felt a gun pointed to my lips. I came to a dead stop. When I tried to push the gunpoint away, it was too late. A shot was fired. The bullet went through the lip, smashed nearly all the teeth and went out from the back of my neck. Looking sideways I noticed that my comrade-in-arm and fellow-countryman Zhaksygali Yesenbaev shot the Italian. Then he approached me and put a tight bandage on the place of the wound. The division group proceeded forward and I receded to the back…"
Acting on the verge of mockery over veteran's feelings I approached him and scrutinized the scar badly stitched on his lower lip. As the additional proof the old veteran removed his two detachable jaws…
"In about 3 - 4 hours I reached the base where remaining damaged teeth were removed, a new bandage applied and waited for the hospital vehicle that shuttled twice a day: 8 o'clock in the morning and at the same time in the evening. The evening hospital van arrived and 21 wounded soldiers were put into the van. The 22nd was the nurse. I stayed behind to wait for the morning hospital van. In the morning we came across the van that left last night. It was burnt down by the Italian troops together with people inside. I stood there looking at the hospital van burnt to the ground and realized: I escaped death for the second time…
In the hospital the wound was stitched badly and there were openings left. I remember how physician Popov was angry at his medical staff: "Stop feeling pity for the wounded, and put the stitches close to each other!"
I could not swallow; therefore, the nurses put the nose of the tea-pot into my mouse and simply poured the liquid down.
ALIVE, THOUGH
After two months the young toothless soldier returned to battle, to the 2nd Ukrainian front, to the 884th artillery regiment as a gun-layer of 120-millimetric guns. It was right before the forced crossing of the Dnieper River.
"We crossed the Dnieper River by a wooden pontoon, but on the other bank we all got stuck in clay sand and the equipment bogged down. From the air the enemy fighter planes peppered us with fire… Shells were vertically digging into the sand and … didn't explode. I survived that battle, but didn't serve in that regiment for long."
Soon near the settlement of Pervomaisk he received a light wound to his knee and after staying in hospital, was sent to his former 35th guards division where his fellow-countrymen served.
- Could you speak Russian then?
- I couldn't speak a word.
- And how did you understand the orders?
- Well, I learnt the orders very quickly. At first, I just repeated what my comrades-in-arms did: if they fell, then I fell too, and if they got up, I got up with them …
In December 1943, he received his last wound: the frag went though the shin bone slightly above the foot. Even today a big hole in his shin looks scary, even it skinned over. After spending eight months in the hospitals, he returned home as the second group invalid. He had no teeth, was walking on crutches, but live, though.
THE TASTIEST BREAD
- How was life at home front?
- The collective farm used to give us millet and flour instead of paying salaries and pensions. According to rationing system each person received butter, tea, canned food and even sausages. We didn't live in hunger or poverty, but life was hard. The Kazakhs used to gather "anchonkhai (I couldn't find the analogue of this plant in the modern botanical books, but according to the old man's description it was a root crop - Z.B.) in the steppe. After drying the roots, we ground it and made bread. We also collected "koumarshyk"crop growing in sand dunes. We fried its tiny brown seeds and had it with milk, soup or baked bread. You can't find a better tasting food! And if we received lumps of sugar, my mother used to slice it very thinly.
With these words, the old veteran took a thin slice of boiled potato from his plate and cut it into four half-nail size pieces.
- But bread price always stayed the same - 90 kopeks. He put his arms in a circle as if covering a thick tree trunk: A round bread made of rye and as big as this. Even its smell made your pallet water. I never tried tastier bread in my life.
THE MANGISTAU EPIC
Two years later Kourmanbai-ata got rid of his crutches and went to work. He couldn't bend his leg and, therefore, used to sit on the oil rig platform as the guest of honour and worked in a sitting position. He made his career in oil industry and his final position was a supervisor of exploration drilling unit in Mangistau Gas and Oil Exploration trust. He worked in oil industry all his life, for 54 years! He knows a lot of interesting stories from oil industry and and this is one of them:
- Our Kazakh geologists performed exploration activities in Mangistau Oblast and discovered coal, crude oil, manganese, and many other mineral resources… They explored, discovered and prepared all necessary documentation using their own funds. It cost millions of rubles. Meanwhile, Khrushchev for some reasons gave away those areas to Turkmens for development. He also provided them with dozens of steamships, barges, a lot of equipment and financed them from state budget… We thought that we need to approach Moscow with this issue. But who would dare to do so? Mr. Khalelov, the Secretary of Fort-Shevchenko city, informed Mr. Ondasynov, the Secretary of the Guriev (now Atyrau) Oblast Committee. He, in his turn, informed the head of the state Mr. Kunaev. Kunaev brought together the top academicians to discuss the issue and appoint the person who would travel to Moscow. The academician Kanysh Satpaev volunteered to do this. He reported to Khrushchev and said that Guriev oilmen didn't get any assistance from the Central Committee of the Communist Party and also asked to leave the oil fields of Mangistau for Kazakhs to develop. He requested that the equipment provided to Turkmens be handed over to us. Khrushchev refused to provide assistance, but said that if we manage ourselves, then he would give the fields back to us.
The whole exploration company from Novobogat where I worked, was moved to Mangistau. Equipment, employees, families … It was in 1953. There was shortage of transport and water and no electricity. People lived in dugouts. Those were hard times. The funds were not enough, the exploration activities were coming to a halt. We were on the brink of returning back to our homes when the suspended well # 6 in Zhetybai started flowing freely! After that we had everything: equipment, funding, water, airplanes. People from all parts of the Soviet Union came to work there. We worked in a multinational team. Mangistau Oblast was separated from Guriev and became a separate administrative unit. I came back from Mangistau to the Drillers village (now Akzhar village) in 1975 due to illness. It was a very small village then with just a few houses situated along the river. I was appointed the head of housing and utilities sector and was charged with the task to provide water, electricity and heating to the village. I did all that and the village started to grow.
DIRECTOR'S TOAST
As the war veteran he retired early when he was 53 years old, but, nevertheless, he continued working in oil industry until he was 70. He has 5 children. He used to drive different types of vehicles until he was 85. The widower, he married for the third time last year. His wife is 54-year-old widow Gulnar.
… When his autobiography story was coming to an end, the film director was already dozing off, platforming his chin on his palm. When we touched him by his shoulder, he woke up and said a humorous toast: "To the young couple and to their future children!"
Everybody burst out laughing, except me. In my opinion, it is too early to withdraw Kourmanbai Dosymbetuly from an account. He keeps his powder dry after all!
Photo of the author
May 9 2013, 06:18