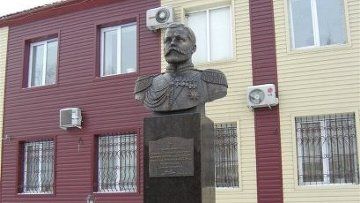 Bailiffs have seized a bronze statue of Emperor Nicholas II as part of of the assets of a Siberian distillery facing bankruptcy procedure, which may be sold over unpaid debt, a spokeswoman for the regional bailiffs service, Natalya Fomina, told RIA Novosti.
The 500-kg bust was erected in 2010 on a massive granite pedestal in the village of Shushenskoe in the southern Siberian Krasnoyarsk region by "Shushenskaya Marka," one of the largest vodka producers in the region.
A local court has started hearings following a claim from Russia's largest bank Sberbank against the distillery over its failure to pay back a loan and issued a warrant for the seizure of its property.
Ironically, the monument to the last Russian tsar was erected in the village where Communist leader Vladimir Lenin spent three years in exile in the end of XIX century for revolutionary activity against his rule.
May 3 2013, 17:29