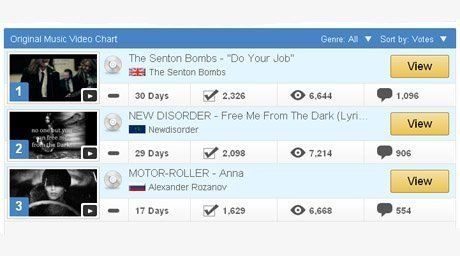 Screenshot of www.beat100.comAnna video of Kazakhstan's rock band Motor-Roller has made it to the third line of the famous British website BEAT100 Network, Tengrinews.kz reports. The video was previously ranked 14th.

Currently the band's video shares the top of the chart with Do Your Job by The Senton Bombs and Free Me From The Dark by New Disorder. In over two weeks Anna has been viewed 6.5 thousand times and received a little over 1.6 thousand votes.

Besides, the video received bonuses from music critics of the website: two silver medals for the quality of the song and the video and a bronze medal meaning that one of the juries likes the video. The video also received a medal from the project's organizers for the second place by the number of views.

The video of Motor-Roller is competing in the international contest with around 1 thousand music videos of different bands from around the world. The winner is defined by simple voting with every user being able to vote not more than once a day.

Anna was shot in less than one week in Saint-Petersburg in October 2012 and then well-known filmmaker Aleksander Rozanov worked on it for six months. The video tells about a classic love triangle, where the main heroine Anna is a collective female image. This is a love story about deep feelings. It is a little sad and philosophical.
May 2 2013, 17:25