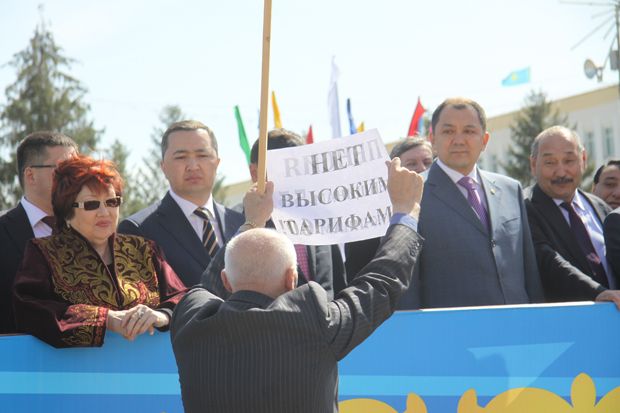 A protest slogan was handed over to the governor of West Kazakhstan Oblast, Nurlan Nogayev.
The incident took place during a parade in the city of Uralsk dedicated to May 1, the Kazakhstan People's Unity Day, writes Uralskaya Nedelya.
A group of communists marching in the procession, stopped in front of a tribune on top of which the governor and regional high-level officials were enjoying the festivity, and rolled out banners with slogans urging to cancel the new retirement system reform that raises women's pension age.
Standing for about a minute before the regional executive officials, the leader of the city's communists Vassili Shamin approached the head of the oblast to pass him a paper reading "Pension to women at 55, to men at 60!" in bold letters.
The reverse side of the paper said "No to high tariffs!."
Akim Nogayev refused to accept the slogan offered, however the head of regional assembly of peoples Gaisa Kapakov took the paper instead of him.
Then the communists continued their way in the parade along the avenue to the applause of the crowd of spectators standing nearby.
May 1 2013, 16:30