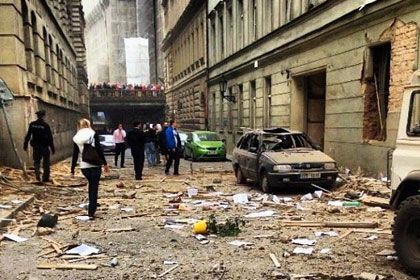 Scene of the blast. Photo: michelle_lskt / twitter A powerful explosion damaged an office building in the center of the Czech capital, Prague, Monday, injuring up to 40 people. Authorities believe some people are buried in the rubble.
It is not certain what caused the blast in Divadelni Street at about 10 a.m., but it was likely a natural gas explosion, police spokesman Tomas Hulan said.
The street was covered with rubble and was sealed off by police who also evacuated people from nearby buildings and closed a wide area around the explosion site.
Zdenek Schwarz, head of the rescue service in Prague, said up to 40 people were injured with at least four of them sustaining serious injuries.
Firefighters spokeswoman Pavlina Adamcova said rescuers were still searching the rubble, using sniffer dogs.
Windows in buildings located hundreds of meters from the blast were shattered, including some in the nearby National Theater. Tourists at the famed Charles Bridge also felt the blast.
"There was glass everywhere and people shouting and crying," Vaclav Rokyta, a Czech student, told the AP near the scene.
"I was in the bathroom, no windows, the door was closed. Honestly, if I had been in my bed I would have been covered in glass," said Z.B. Haislip, a student from Raleigh, North Carolina, who was in a nearby building.
The Faculty of Social Sciences of Prague's Charles University and the Film and TV School of the Academy of Sciences of Performing Arts are located next to the damaged building.
Prime Minister Petr Necas said in a statement he was "deeply hit by the tragedy of the gas explosion."
April 29 2013, 16:16