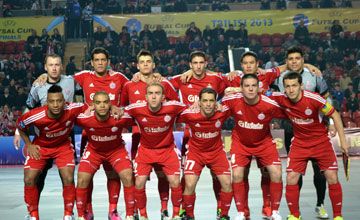 Kairat AlmatyFive-time semi-finalists Kairat Almaty of Kazakhstan on Sunday beat losing odds and finally touched gold by defeating last year's runners-up MFK Dinamo of Russia 4-3 for the 2013 UEFA Futsal Cup trophy.
The Kazakhs led all the way to their first ever victory in the European club five-a-side indoor football tourney which was inaugurated in 2001.
Halftime score was at one goal each. The Kazakhs opened a 4-1 lead early on in the second half but only to see the Russians score two goals in succession to close the gap to 4-3.
Fumasa from Georgia was the toast of the Kazakh club by sealing the match away from the Russians by scoring the third Kazakh goal of the match.
The Kazakhs had even more to celebrate when Brazilian goalkeeper Higuita threw the ball into an empty Russian net as the Dinamos were forcing a power-play with an attacking goalie away from their own goalmouth, Xinhua reports.
The Russians did have their chance to level the scoring at the dying seconds when Cirilo hit his shot against the left goal post to be deflected away.
Earlier in the day, last year's champions FC Barcelona of Spain downed hosts Tbilisi Iberia Star of Georgia four goals to one for the third place of the cup tourney.
Sunday's victory improved Kairat Almaty-MFK Dinamo head-to-head match tally to two wins against one draw and three defeats. The Kazakhs have not lost their matches to the Russians since 2009 when they first defeated the Russian club with a lone goal at Ekaterinburg for the third place of the UEFA Futsal Cup.
April 29 2013, 10:20