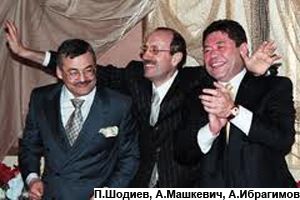 ENRC's trio of founders: Alexander Mashkevich, Patokh Shodiev and Alidzhon IbragimovBritain's Serious Fraud Office has begun a formal investigation into allegations of fraud, bribery and corruption at Kazakh miner ENRC (ENRC.L), following months of talks between the two sides and two internal inquiries.
The formal probe, announced by London-listed ENRC and confirmed by the SFO, comes as the company faces a potential buyout bid from its three co-founders and the Kazakh government.
ENRC said it was cooperating with the SFO.
"ENRC is committed to a full and transparent investigation of its procedures and conduct," the company said on Thursday.
Last year ENRC said it had begun investigating allegations of illegal payments in Kazakhstan, and the results of that probe have already been filed to the SFO. A second investigation into the group's African operations was ongoing.
ENRC, a miner with operations in Kazakhstan, Africa and Brazil, has for months been struggling to move on from issues that have dragged on its shares. These include the corruption investigations but also damaging battles between directors and its trio of founding shareholders, and $5 billion of debt.
This week, the chairman brought in to lead a turnaround, Mehmet Dalman, resigned.
Earlier on Thursday, Moody's downgraded ENRC's corporate family rating, placing it on review for further downgrade due to "new degrees of uncertainty and unpredictability over the future direction of the company".
The group's trio of founders and the Kazakh government announced last Friday that they were considering a potential bid for the shares in ENRC they do not already own. They have until May 17 to confirm an intention to make an offer.
The trio and the Kazakh government own a 55 percent stake. Rival Kazakhmys (KAZ.L), however, is ENRC's largest single shareholder with a 26 percent share.
April 26 2013, 12:04