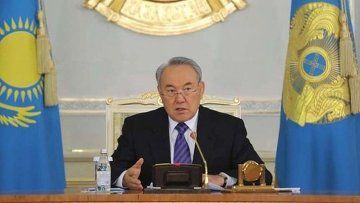 Kazakhstan will leave any union if the country's independence is jeopardized in it, President Nursultan Nazarbayev stated, according to IA Novosti Kazakhstan.
"During visits to other countries we are often asked what kind of union is this [Eurasian]? Some talk that Russia is reassembling its empire to create a new Soviet Union - that's absurd! I want to emphasize, Kazakhstan has gained independence for the first time ever, our people felt what the liberty is like for the first time ever, so we will yield no inch to lose our independence. If any alliance limits our independence, our constitution, we will quit such organization straight away. This is what others are aware of too, the matter is about economic integration only," Nazarbayev said Thursday in his speech at the Eurasian Media Forum in Astana.

He noted, under the economic union are gathering post-Soviet nations, which have long been tied up with transport arteries and human ties.
"We have no language barriers, our economies have been integrated for hundreds of years and the integration will help us survive in a competitive environment," he said.
President stressed the Eurasian union is "not a closed organization - it is open for all other countries."
"There are nations showing interest in joining the Eurasian economic union or cooperation with the customs union - from Vietnam to Europe," he said.
The head of state believes "the organization will expand in the future."






April 26 2013, 09:33