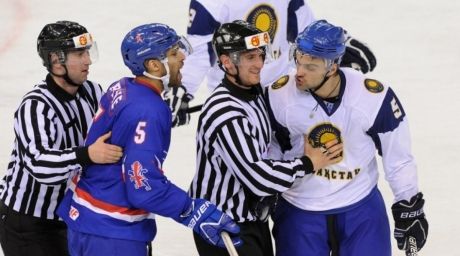 Phto: ©AFP Great Britain to a heavy 5-0 defeat in their second game of their World Championship Division 1 Group A campaign in Hungary, reports vesti.kz.
In a hard play After a 4-2 loss to the hosts on the opening day, Britain had no answer to
In the first match with Japan Kazakhstan won with the score of 5-2 with netminder Vitali Kolesnik posting a 36-shot shut-out in a man-of-the-match performance and becoming the 2nd in their group.
Two goals inside 19 seconds towards the end of the first period from Konstantin Romanov (17.42) and Ilya Solarev (18.01) saw Kazakhstan take control and Roman Savchenko added a third on a five-on-three powerplay with just eight seconds of the middle session remaining. Vadim Krasnoslobodtsev extended Kazakhstan's advantage at 41.51 before they wasted a chance to make it 5-0 at 50.25 when Konstantin Savenkov saw his penalty shot - after being hooked by Luke Boothroyd - hit the post.
But 55 seconds later, GB goalie Stephen Murphy was breached again as Yevgeni Blokhin converted another powerplay marker while Ashley Tait was denied a chance to break Kolesnik's shut-out on a one-on-one.
After this victory Kazakhstan hockey team is on the first place in the group, thus taking over Italians in the difference of goals.
On April 17 the Kazakh team will play against the host team- Hungary.
April 16 2013, 10:44