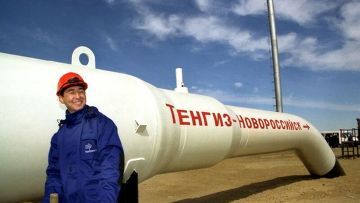 CPC General Director Nikolai Brunich made a business trip to Atyrau last week within the framework of his tour to CPC Central and Eastern Regions, reads the company press statement.
The tour included visits to the upgraded pump stations Astrakhan, Komsomolsk, Tengiz and Atyrau, and also the new pump stations under construction in the Astrakhan and Atyrau Regions as part of the Expansion Project. Working meetings were held with local personnel at the pump stations, construction contractors and Tengiz ERS personnel. Also on Nikolai Brunich's itinerary was a meeting with TCO CEO Tim Miller.
CPC General Director also held a meeting with Atyrau Oblast Governor Baktykozha Izmukhambetov. Nikolai Brunich updated the Governor on the CPC expansion progress, noting the activities that are now in progress and CPC's global efforts are fully in line the development plans of the regions where the pipeline is located. The expansion project creates additional jobs for local residents during construction and future operation phases and increases payments to regional and local budgets as well as additional investment. In his turn, the regional leader reaffirmed previous agreements and reassured CPC that they will provide conditions necessary for it to implement its projects successfully.
CPC pipeline system is one of the largest investment projects in the energy industry with participation of foreign capital on the CIS territory. The length of the pipeline connecting the oil fields in Western Kazakhstan with the Marine Terminal near Novorossiysk is 1,511 km. CPC Marine Terminal is equipped with single point moorings which allow for safe tanker lifting at a considerable distance from the shore, also when the weather conditions are unfavorable.
The Expansion Project includes rehabilitation of 5 existing and construction of 10 additional pump stations (2 in the Republic of Kazakhstan and 8 in the Russian Federation), six new storage tanks (100,000 cu.m each) in addition to the existing four near Novorossiysk and a third SPM at the CPC Marine Terminal, and also the replacement of an 88 km pipeline section in Kazakhstan with a larger diameter pipe. The total amount of the Project investments will be US$ 5.4 billion.
CPC Shareholders: Russian Federation (represented by Transneft – 24% and CPC Company – 7 %) – 31%; Republic of Kazakhstan (represented by KazMunayGaz – 19% and Kazakhstan Pipeline Ventures LLC – 1.75%) – 20.75%; Chevron Caspian Pipeline Consortium Company - 15%, LUKARCO B.V. – 12.5%, Mobil Caspian Pipeline Company – 7.5%, Rosneft-Shell Caspian Ventures Limited – 7.5%, BG Overseas Holding Limited - 2%, Eni International N.A. N.V. - 2% и Oryx Caspian Pipeline LLC – 1.75%
April 15 2013, 17:09