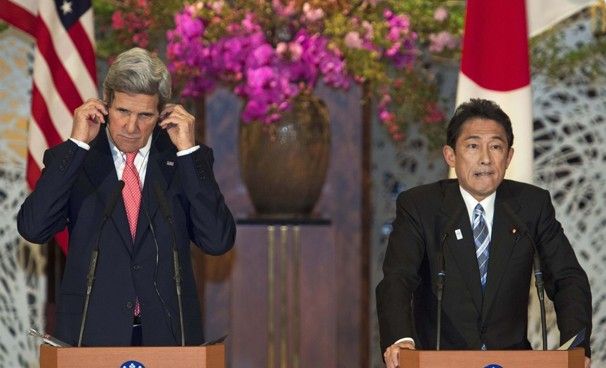 The United States and Japan offered new talks with North Korea to resolve the over its nuclear and missile programs, but said the reclusive communist government first must lower tensions and honor previous agreements.U.S. Secretary of State John F. Kerry invited North Korea to resume disarmament talks, appealing Sunday for a step back from the threat of war even as the North may be ready to test-launch a missile capable of hitting Japan and U.S. bases in the Pacific.

He opened the possibility of new direct contacts between the United States and North Korea, something the reclusive and unpredictable state has sought before as a way to guarantee that the United States will not attack. Kerry offered no such bargain, but he made clear that the failure of past negotiations will not prevent him from making another attempt.
"We're prepared to reach out" to North Korean leader Kim Jong Un, Kerry said. That would require "the appropriate moment and the appropriate circumstance," he added.

Kerry said he was speaking "personally," and a State Department official said afterward that the United States has made no official offer of government-to-government talks.

"Our position hasn't changed, and there are no plans to move toward direct talks, because North Korea has shown no willingness to move in a positive direction," said the official, who spoke on the condition of anonymity to clarify Kerry's remarks.

Given that former NBA star Dennis Rodman is the most prominent American to have met with the 30-year-old Kim, Kerry said a meeting with a more traditional envoy may be forthcoming. The State Department opposed Rodman's February visit to Pyongyang, viewing it as a reward for bad behavior, and ignored Rodman's suggestion that all Kim really wants is a phone call from President Obama.

"It may be that somebody will be asked to sit down," Kerry told a group of reporters who traveled with him to Asia — a tour overshadowed by the threat of conflict with North Korea.

Japan is Kerry's final stop on a 10-day world trip that took him from Istanbul to Tokyo, with stops in the Middle East and London. Attempts to address seemingly intractable problems were a theme for Kerry, who is trying to restart Israeli-Palestinian peace talks, speed the end of fighting in Syria and defuse the perennial threat of conflict with the Stalinist government of North Korea.

Diplomatic advances with China, North Korea's most important ally and underwriter, offer the promise of drawing the North back to talks that could rid the Korean Peninsula of nuclear weapons, Kerry said. The North has conducted three nuclear tests and is thought to be moving toward a full nuclear weapons capability. Its government has called nuclear weapons a fundamental part of its identity and has vowed it will never give them up.
New talks would be aimed at giving the North a reason to reverse that stance. Diplomats in South Korea, China and Japan have pledged to explore the possibility despite a history of concessions to North Korea that have not stopped its nuclear development.

Of the three, South Korea sounded the most eager for negotiations, Japan the least. Both would be on the front lines of any conflict with North Korea, and Kerry repeated at each stop that the United States would defend its allies.
April 15 2013, 16:21