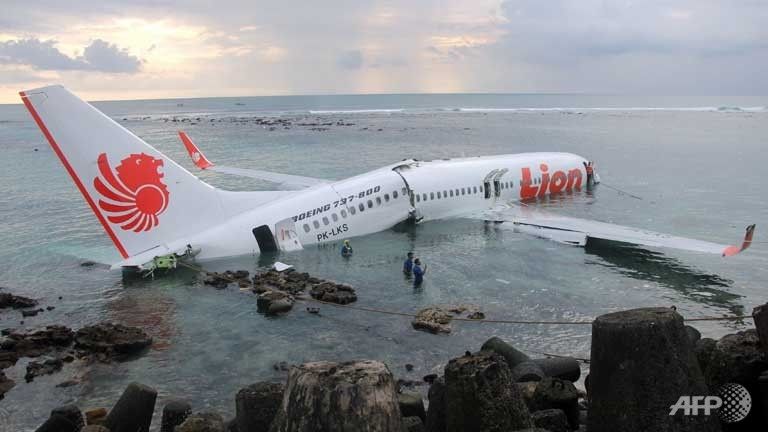 A plane carrying more than 100 passengers missed the runway and plunged into the sea on the Indonesian resort island of Bali.
Passengers were "screaming in panic" as the jet fell into the water from a height of 50m.
Bali Police Chief Arif Wahyunadi told local TV One that all of the 101 passengers and seven crew members were evacuated from the Lion Air jet and taken into the Denpasar International Airport terminal for treatment.
Up to 45 of those on-board were taken to several different hospitals for treatment, but no serious injuries were reported. Many passengers emerged from the wreckage and boarded rubber boats with little more than wet clothes and bruises.
There were no Britons on board.
According to Reuters, the plane landed in the sea before reaching the airport. It somehow failed to reach the runway, which is 9,842 feet long and juts out into the waters separating Bali from Indonesia's main island, Java.
Photos of the incident show the plane's fuselage cracked in half and partially submerged in the shallows.
Crash investigators are preparing to launch their enquiries, but the cause of the accident is as yet unclear. Wahyunadi said the plane originated from Bandung, the capital of West Java province, and was landing in Bali.
A passenger told the Associated Press: "The aircraft was in landing position when suddenly I saw it getting closer to the sea, and finally it hit the water. All of the passengers were screaming in panic in fear they would drown. I left behind my belongings and went to an emergency door. I got out of the plane and swam before rescuers jumped in to help me."
Lion Air, the leading budget air carrier in Indonesia, has been beset by controversy. Last year the firm was sanctioned by the Transportation Ministry after pilots and crew were found in possession of crystal meth. In 2004, 25 people died after a Lion Air plane overshot the runway in Surakarta.
The low-cost carrier, which began operating with a single plane in 2000, holds a 45 per cent market share in Indonesia. Last month the company inked a £24bn deal to buy 234 Airbus planes, the French aircraft maker's biggest-ever order.
April 13 2013, 21:55