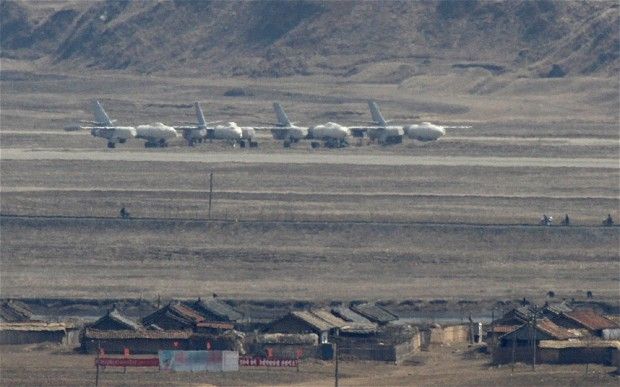 North Korean Harbin H-5 bomber jets at Uiju Airfield near the North Korean town of Sinuiju, opposite the Chinese border city of Dandong Photo: REUTERS/Jacky ChenNorth Korea's army was deeply split over whether to accept the command of Kim Jong-un, a former officer has revealed, giving a possible clue to the tensions lying behind the young leader's calls to war.
First Lieutenant Kim, 42, said he had been forced to flee North Korea after he murdered a rival officer as the factions within his army unit battled for control.

"I killed a three-star company commander, the same rank as me," he said. "He was the head of the faction supporting Kim Jong-un. There were two fights. In the first fight, they surrounded us and arrested a lot of people.

"But I got away and gathered others from the barracks. We found them and I shot the commander. After that, I escaped".

The battles occurred at the end of 2011, shortly before Kim Jong-un succeeded his father as the "supreme commander" of the Korean People's Army, the 1.2 million-strong standing force that remains at the heart of North Korea's "military-first" society.

"It was before he came to power, but we all knew for a long time that he was going to be made the leader. There were a lot of people who were against him. But everyone in that faction got arrested after he came to power," said Lt. Kim.
His group, he said, supported Kim Yong-nam, North Korea's 85-year-old president.

Divisions within the military, and the desire of a leader who may be only 30-years-old to consolidate his position, could be one factor behind the current spate of aggression.

"The further north you go (in North Korea), the more you hear rumours of dissension and divisions over who is or who would have been a better leader," said Joseph Bermudez, an expert on the North Korean military and an analyst at DigitalGlobe.

He added that there had been rumours last year of a possibly violent falling-out between two major departments over who would be in charge of army reconnaissance. That, he said, might have alarmed Kim Jong-un, who subsequently reshuffled a host of leading generals.

Lt Kim, who would not give his first name, said he was from Uiju county, close to the Chinese border city of Dandong. He has spent the last two years lying low in China, rarely venturing out, and waiting for his chance to travel to South Korea.

"We knew that South Korea was on a path to democracy and they had a good life and they had enough food. I had never eaten rice, and I cried the first time I smelled it cooking here in China," he added.

Wearing a pair of cheap Chinese trainers, a patterned jumper and a green Chinese army surplus great coat, a palpably scared Lt Kim was unable to offer any formal identification. His left arm hung awkwardly from an old wound to his shoulder.

If he is caught by the Chinese, he will be sent back to face either the death penalty or life in a gulag.

A halting interview with him, in the back of a taxi parked in the sparse countryside outside Dandong, was arranged through an agent who is helping to smuggle him to the South, and who charged £100 to speak to the former officer.

"I give him food," the agent said. "He used to be skinny, but after staying indoors these years, he has eaten well.

"I have contact with the South Korean spies who are here in Dandong. They keep an eye on relations between China and the North, but they also pay for me to deliver North Koreans to them. He will probably be sold next month, but until then the North Koreans are searching for him." The agent, a trim ethnic Korean in a nylon bomber jacket, declined to give his name.

He claimed that he had smuggled out 60 to 80 people out last year, many of whom were escaping after internal riots last year in Manpo, another city close to the border. "Only three in 10 defectors are successful," he said. "The others are arrested or are shot as they escape."

After two years outside of the country, Lt Kim said he had "no idea" what lay behind this month's aggression. "I do not know why they are doing what they are doing now," he said.

"Before I left, we used to hear that there was fighting between Kim Jong-un and his brother, who does not like China. They have different mothers so they are struggling against each other."

But he predicted there would be "no war" and that the regime would continue its hold on power, despite the desperate problems in many parts of the country.

"The situation is very bad. People are starving. There are some rich people, some rich politicians, who have a lot of money, but the rest of the people do not have anything. My father and mother both starved to death and my older brother died of illness," he said.

Lt Kim said he had commanded a construction company which excavated mountains for military installations.

"We were digging fortifications to prepare for war," he said. "Some of the projects would last for six years."

Mr Bermudez said there was still not enough information to establish the motive for North Korea's war footing. "We have not seen this before. We might be seeing that the generals have been given far more room and they are exploiting that, without really understanding the effect on the international community."

When asked if the North Korean army is still strong, Lt Kim answered automatically: "Yes, very strong". The man who smuggled him out of North Korea, however, doubled up laughing at the officer's response.

"They are taught that they are the strongest army in the world, and the best equipped. But in reality, their equipment is what we were using in China 60 years ago!" he said.
April 10 2013, 12:09