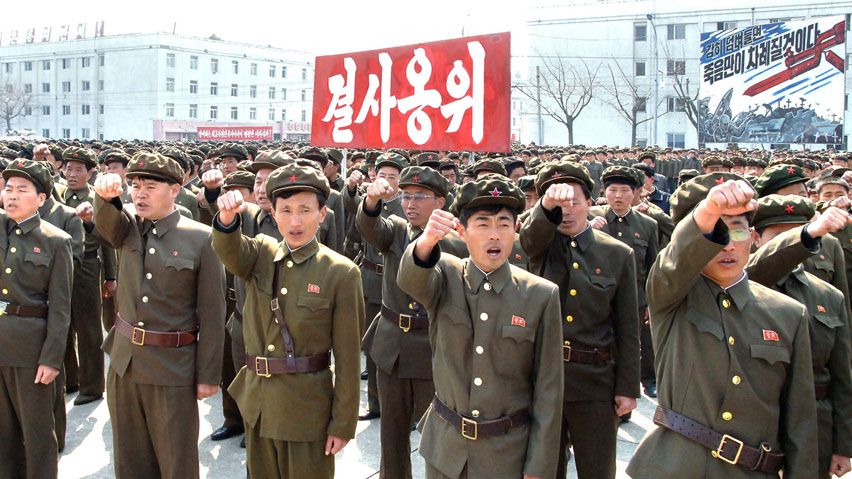 North Korea has urged foreigners living in South Korea to consider evacuating, saying there was a risk of "thermo-nuclear war" breaking out on the Korean peninsula.
The warning followed a similar evacuation advisory the North gave Friday to foreign embassies in Pyongyang, saying it could not ensure the safety of their personnel if war broke out.

"The situation on the Korean peninsula is heading for a thermo-nuclear war," said Tuesday's statement which was attributed to the North's Asia-Pacific Peace Committee.

"In the event of war, we don't want foreigners living in South Korea to get hurt," said the statement, carried by the official Korean Central News Agency.

It urged "all foreign organisations, companies and tourists to work out measures for evacuation".

After last week's embassy warning, most governments involved made it clear they had no immediate plans to withdraw personnel from their Pyongyang missions.
Some suggested the advisory was a ruse to fuel growing global anxiety over the current crisis on the Korean peninsula.

The United States, which has also been threatened by Pyongyang, has said there were no imminent signs of threats to American citizens.

Pyongyang has shown no sign of preparing its 1.2 million-strong army for war, indicating the threats could be partly intended for domestic purposes to bolster Kim jong-un, 30, the third in his family to lead the reclusive country.

Soaring tensions have been fuelled by North Korean anger over the imposition of UN sanctions after its last nuclear arms test in February, creating one of the worst crises since the end of the Korean War in 1953.

Earlier on Tuesday, North Korean labourers failed to turn up for work at a factory complex operated with South Korea, effectively shutting down the last major symbol of cooperation between the hostile neighbours.

South Korea's president said she was disappointed at North Korea's decision to halt operations at the Kaesong industrial park, which generates $2 billion in trade for the impoverished state.

News of the Kaesong closure diverted attention from speculation that the North was about to launch some sort of provocative act this week - perhaps a missile launch or new nuclear test. However, residents of Seoul carried on with daily activities with no trace of anxiety.

A spokesman for textile company Taekwang Industrial and at least two other firms said North Koreans workers did not show up for work and that production had stopped.

"North Korean workers didn't come to work today, and production has halted in our Kaesong facilities," said a spokeswoman for Shinwon, a women's clothing maker.

About 475 South Korean workers and factory managers remain in Kaesong, a few km (miles) inside the border with North Korea. The South Korean government said 77 would return on Tuesday.

An executive at another South Korean apparel firm running a factory in Kaesong said late on Monday his employees had told him they would stay.

"I don't know what to do, honestly. I can't simply tell my workers to leave or stay," said the executive.

Many South Koreans have been reluctant to leave, worried about the impact on their companies and jobs. Some bedded down in budget hotels at the South Korean border town of Paju in the hope that the zone would soon re-open.

"I have been feeling anxious now and then. Now it's really preposterous facing this," said Shing Dong-chul, 55, a South Korean worker who transports wire made in Kaesong.

"North Korean workers didn't talk a lot, but they appeared to have complaints about Kaesong being closed. They worried whether they would be working or not."

North Korean workers at the park have appeared increasingly agitated in recent days, refusing to talk to their colleagues.

Addressing a cabinet meeting, South Korean President Park Geun-hye described the suspension of Kaesong as "very disappointing" and said investors would now shun the North.

Few experts had expected Pyongyang to jeopardise Kaesong, which employs more than 50,000 North Koreans making household goods for 123 South Korean firms.

"They're using this as shock therapy because, regardless of what they say, if they close Kaesong the damage they will sustain will not be small," said Moon Seong-mook, a retired South Korean brigadier general who took part in previous military talks with the North.

The zone is practically the last vestige of the "Sunshine Policy" of rapprochement between the two Koreas and a powerful symbol that the divided country could one day reunify.

US Secretary of State John Kerry visits Seoul this week and the North holds celebrations, and possibly military demonstrations, next Monday to mark the birth date of its founder, Kim Il-Sung - the current leader's grandfather.
April 9 2013, 16:15