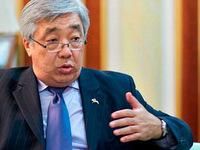 The Kazakh Foreign Ministry and the Labour and Social Protection Ministry have today organised a round table on the facilitation of foreign worker attraction procedures for foreign diplomatic and trade missions, associations of Kazakh and local entrepreneurs, the Foreign Ministry said today.

Ambassadors from 26 countries, diplomats from more than 50 foreign diplomatic and trade missions and international organisations accredited in Kazakhstan, as well as representatives of the investment committee of the Industry and Trade Ministry, the Prosecutor General's office, migration police committee under the Interior Ministry, the National Agency for Export and Investment KAZNEX INVEST, Atameken union and the Foreign Investors Council attended the event.

Opening the meeting, Foreign Minister Erlan Idrissov said the work of the round table is aimed at discussing specific issues and designed to demonstrate the Kazakh government's commitment to attract highly qualified foreign workers.

The foreign minister stressed the need to use a variety of existing interactive platforms at the level of the Foreign Investors Council, Prime Minister of the Republic and the Labour and Social Protection Ministry. He added that this round table is also an effective platform for discussing and searching for mutually beneficial solutions.

Idrissov urged foreign participants to thoroughly examine the Kazakh current legislation in order to implement the wide range of existing opportunities to attract foreign workers in high-tech investment projects, small and medium business, representative offices and branches of overseas companies in the country.

Labour and Social Protection Minister Serik Abdenov and chairman of the investment committee under the Ministry of Industry and New Technologies Erlan Khairov made reports. They informed the audience about the current situation in the labour market and relevant information on conditions and specific mechanisms to attract foreign workers within the current legislation, Kazinform refers to trend.az.

Opinions were exchanged resulting in approaches to the solution of the existing difficulties in attracting foreign workers being made.

The representatives of diplomatic and trade missions of foreign countries thanked the Kazakh government for the initiative to hold the round table and an open dialogue.
April 3 2013, 11:34