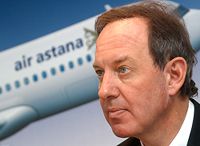 Peter Foster, Air Astana PresidentAir Astana has signed a new partnership with Turkish Airlines that will see the two airlines codeshare on routes between Kazakhstan and Turkey.
The deal, which was signed in Istanbul by Air Astana's President, Peter Foster, and Turkish Airlines' President & CEO, Dr Temel Kotil, will enable the two carriers to cross-sell each others' flights between Kazakhstan's largest city Almaty, capital city Astana, and Istanbul. The agreements are set to take effect from May 2013.
"The strength of the extensive and rapidly growing network of Turkish Airlines from its hub at Istanbul Ataturk Airport will allow us to offer a much wider range of destinations to our customers. Our passengers will enjoy increased travel flexibility and improved connectivity benefiting from the combined frequencies that we will be offering through the codeshare," said Peter Foster, President of Air Astana.
Both airlines currently operate direct flights on both the Almaty-Istanbul and Astana-Istanbul sectors.
April 1 2013, 05:47