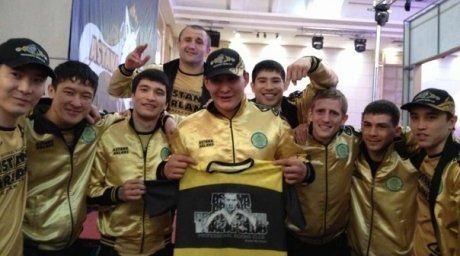 Astana Arlans. Photo from Kazakhstan box Internet page InContact. Lausanne, Switzerland, 29 March 2013 – Just too strong and well-prepared for inexperienced Condors, Astana Arlans Kazakhstan have not had any difficulty to come back from their 2-3 loss last week in Buenos Aires. Setting the Almaty Towers Business Center on fire, the Kazakhs have confirmed that they should be considered as stronger contenders in this third season of World Series of Boxing (WSB).
Astana Arlans Kazakhstan started the evening intensively with Bantamweight (50-54kg) Bagdad Alimbekov putting a lot of pressure on Ignacio Perrin. Dominated in the first two rounds, absolutely overwhelmed in the third one, the Argentinean was left with no other choice than putting his last hopes in the remaining six minutes. However his aggressive style led him to forget about the defence and Alimbekov finished the bout with a few precise counter-attacks to give the first point to his team.
Following on a walk-over from Argentina at Lightweight (57-61kg), the match went straight to the Middleweight (68-73kg) bout between Konstantin Snigur and Henrri David Polanco for the Condors. After a tactical first round, the Israeli Arlans easily took the lead from the inexperienced though powerful Polanco, and kept it until the end for another unanimous decision.
Ready to offer the decisive point to Astana Arlans Kazakhstan, Light Heavyweight (80-85kg) Ehsan Rouzbahani stepped into the ring with Facundo Nahuel Simal. Sending his opponent to the canvas after just a few seconds, Rouzbahani has had absolutely zero fear in this fight, except in the third round that Simal won in the opinion of two judges. Between those two heavy punchers, the Iranian had the clearest tactic and with his victory, sent the host Franchise to this season's semi-finals.
Just to make sure that the Kazakh celebrations could be at its utmost, Heavyweight (91+kg) Roman Kapitonenko displayed all of his power against Angel Daniel Villalba. After a warning received in the first round, the Argentinean was even disqualified in the third, giving an easy last point to the hosts.
Astana Arlans Kazakhstan will now wait a few hours to know who will be their opponent in the semi-finals.
March 30 2013, 08:03