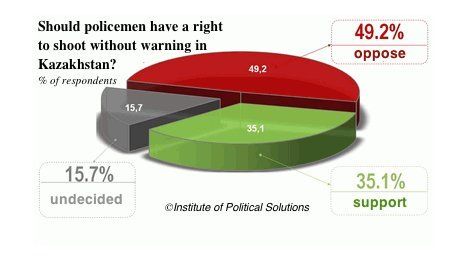 Half of Kazakhstan residents are against police shooting without warning, Tengrinews.kz reports citing the results of the recent opinion poll made by the Institute of Political Solutions (IPS).

"49.2 percent of the adult population of the country's cities polled by the Institute of Political Solutions oppose the legislative amendment that entitles policemen to shoot without warning in case of a threat to their life. The largest shares of the opponents of this initiative reside in the country's northern region (65.1 percent) and Almaty (62.5 percent)," the Institute writes.

Meanwhile, 35.1 percent of the respondents support this initiative of the Interior Ministry. This opinion is mostly popular among the citizens of Astana (69.5 percent) and western Kazakhstan (47.1 percent).

Every sixth polled Kazakhstan resident was undecided on the issue.

The poll was held in 16 cities of Kazakhstan and involved 2,300 respondents.

Earlier a similar poll showed that only one fifth of the polled Kazakhstan residents hope to get any help for the police in case they are attacked by criminals.
March 28 2013, 11:37