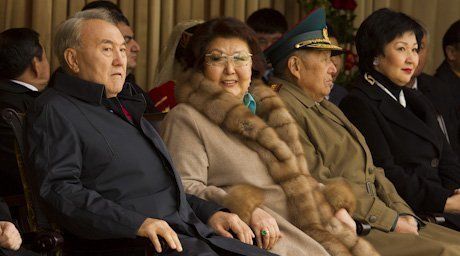 Nursultan Nazarbayev and his wife Sara Nazarbayeva. ©tengrinews.kzPresident of Kazakhstan Nursultan Nazarbayev, accompanied by his wife Sara Nazarbyaeva, congratulated Kazakhstan citizens on Nauryz holiday, speaking at the official event in Almaty, Tengrinews.kz reports.

Nazarbayev reminded that Nauryz was an ancient holiday that returned to Kazakhstan after it gained independence. It had been preserved because it is "a natural celebration of nature" when the day equals the night.

Nazarbayev emphasized that over the 21 years of Independence Kazakhstan managed to accomplish things that usually took centuries. "We have built a new economy. From the totalitarian regime we have transited to the liberal system. Our children can study anywhere in the world wherever they like, our citizens can enjoy themselves at best resorts of the world. Over the past 15 years alone – after the Asian crisis – Kazakhstan's economy has grown 16-fold. With 12.5 thousand per capita we are at the same level as some of the South Eastern tigers and countries of Eastern Europe and South Eastern Europe. This have achieved this through unity and peacefulness of our nation and hard work," the President of Kazakhstan said.

He pointed out the high quality education system, availability of free medical care that had been built over the years: 700 medical facilities and 900 schools had been constructed. "But we are looking forward, we have adopted a program for development of our country until 2050. Our goal is to joint the club of the top 30 most developed countries of the world. We are going to achieve this goal, same as we had achieved our previous goals, because we are united, we love our country, we love our children and we want a better future. We need to press on had for it," Nazarbayev said.

The President also spoke about Kazakhstan's performance since 2008. The last five years of the crisis saw countries reducing wages and cutting jobs, whereas Kazakhstan was creating new industries, reducing unemployment rate, raising wages and pensions.

"All this became possible thanks to hard work and unity. Nauryz holiday sees no differences in ethic, cultural and religious backgrounds, neither do we. We are united, we work together, we live together, we look into the future and achieve our goals to build a better life for all the citizens of Kazakhstan.

"A strong family, an honest labor and love for the motherland is what our young generation needs.

Celebrations of Nauryz in Almaty featured performances of over 400 artists and actors from Kazakhstan and specially invited guest artists from Tatarstan, Uzbekistan and other Central Asian countries. Performance of Sophie Ellis Bextor was the final accord of the event.
March 24 2013, 13:24