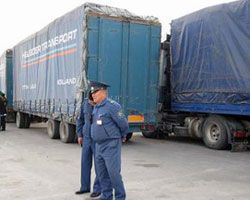 Amongst three Customs Union members, Belarus and Russia feel themselves comfortable, but the third participant - Kazakhstan - is still having hard times manoeuvring between protective measures the partners set, writes total.kz
Judging by 2012 results, the Central Asian nation is the only country of which volume of commerce with CU dropped by 3.7%.
To settle its problems and erase discrimination, Kazakhstan suggests to create common rules to introduce in the most sensitive industries before all.
The last year seems not that lucky for the union. Given 2010 and 2011 brought 29% and 30% increase in trade amounting $47bn and $67bn, respectively, the 2012 results were not optimistic - with a growth of 8.7% the overall volume made $68.5bn.
Kazakhstan found itself to have lost more than others - national trade volume within Customs Union has reduced by 3.7%, while Russia and Belarus enjoyed 9.4% and 12.6% rise.
Kazakh side blames protective measures installed by other CU partners for its poor macroeconomic performance, not only problems within the country.

To the utmost, the issue relates to food products, sometimes it bears technical character, says the country's envoy Galym Orazbakov.

Kazakhstan sharply suffers discrimination in the market of alcoholic beverages, confectionary, which Russia does not let in entirely, and VAT on imported goods:

Previously, we used to charge 10% for children's juice, instead of 18%. But they charge 18% on Kazakh goods, says Timur Suleimenov, minister for economy and financial policy with the Eurasian Economic Commission.


March 19 2013, 15:38