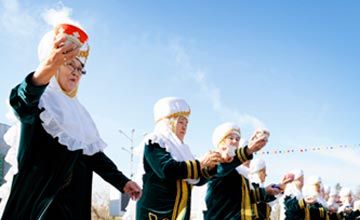 Kazakh people living in Omsk and Novosibirsk regions of the Russian Federation will be celebrating Nowruz in the yurts from Pavlodar.

Akim of Pavlodar region Yerlan Aryn handed to the Novosibirsk and Omsk diaspora of ethnic Kazakhs the certificates of yurts, national instruments, sets of national Kazakh clothing and books, the press office says.

At the meeting in Pavlodar House of Friendship representatives from western Siberia told about the work of national associations concerning learning the Kazakh language and the customs of the people, and discussed further cooperation in the field of culture.

E.Aryn supported the diaspora's idea to create etnoaul (ethnic village) in the Siberian city and offered to arrange tourist travels for the children to Astana, Pavlodar, Bayanaul. He noted that successfully developing are fruitful cooperation, friendship and good neighborliness between Kazakhstan and Russia.
March 18 2013, 12:33