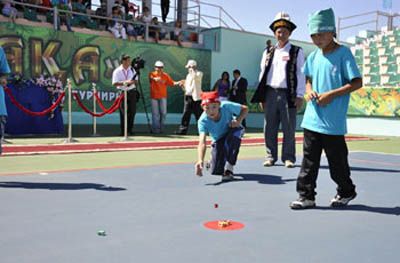 Asyk — is a bone which is a part of a knee joint of a sheep. Up till now asyks game is one of the most popular games among the Kazakh people. It develops good eyesight and skillfulness. There are many different types of this game: "Alsha", "Tagan", "Krug" and "Shik-Buk". The largest asyks were used as a cue ball, which is called "saka". If the player has a good 'saka' there is a big chance to win the game. Sometimes in the old days the sultan and khans' children asyks were filled with gold. And the phrase: "Asygynin alshysynan tussin!" which means "Let your asyk be an alsha" is said when people want to wish good luck.Ak Zhaik newspaper invites teenagers to participate in the annual Altyn Saka - the game of asyk - competition to take place on March 22.
Everyone aged 7-13 is invited.
Location: In front of Renaissance Hotel, Satpayev Avenue, Atyrau
Time: 11.00
Check in for the game at the address 5 Zharbossynov, Atyrau or call 270292 or 271820.
March 18 2013, 11:54