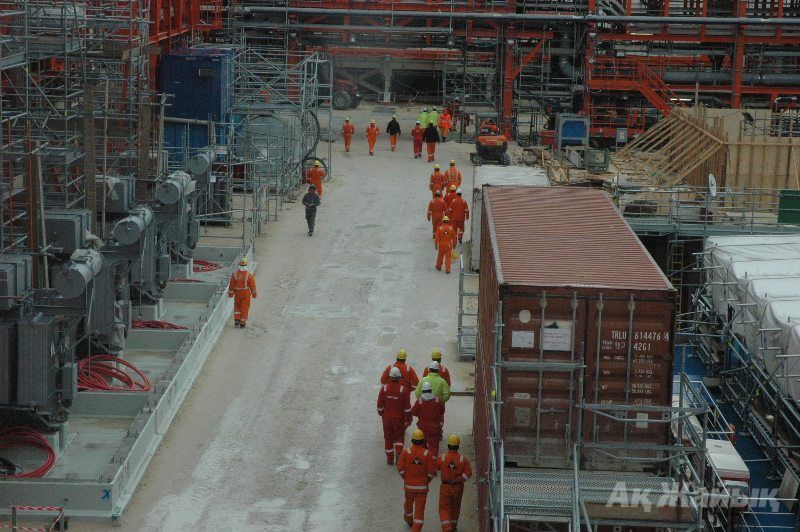 Kazakhstan's labor and social protection ministry [www.enbek.gov.kz] has posted a letter from someone named Egemberdy laying down proposals to settle the painful problem of large difference in the salaries of locals and expatriates in Kazakhstan.
"An example, look at such giants as Agip KCO and TCO. Of course, this region [Atyrau] lacks enough specialists to meet their demand for qualified workforce.
In the two companies, Kazakh citizens - engineers with a 20-30 year experience - earn 250-300 thousand tenge [$1700-2000] a month. Non-resident families have no chance of getting to waiting lists at public kindergartens, thus unwillingly give their children to private day-care facilities for average 50,000 tenge monthly for each.
Employers - finance and HR departments - utterly refuse to reconsider pay scales of local citizens. Why? Is it an agreement with our government or something else?
As the result of the above mentioned, almost a half of office personnel and engineering staff are foreigners, who, for some reason, the company pays at least 20,000 euros every month.
Plus, for them, kindergartens and the only in Atyrau international school [$50,000 a year for a child] get paid. Add here flights of entire families [regardless how many persons] - that's minimum $50-100 thousand a year per an engineer.
Also, a cottage rental - from $5 to $20 thousand a month, although all engineers - locals and expats - have same job grades.
Why Kazakhstanis have to pay for luxury life of these specialists? [foreign companies are spending now on account of oil produced].
Where the minimum requirements on attraction of foreign workforce are in fact?
Why almost every second engineer [not manager] is an expat?
Because a Kazakh will not work to the detriment of himself - will not move here from other city where his wife has a job and he will not spend his small salary on apartment rental, a private kindergarten and make other additional spendings, because companies do not compensate these expenditures, which they do for expats.

Respectively, management of the mentioned departments, on whom the success of the project depends, complain about shortage of local specialists and claim ones from abroad are needed.
The only comfort they offer Kazakh citizens is to pay bank interest in case an employer buys an apartment with mortgage in Atyrau. But why a dweller of Almaty or Uralsk needs a flat in Atyrau? Nobody forces expats to buy homes in Atyrau.
The solution to attract Kazakh citizens is either a decent salary or wage supplements. Ideally both, like they do for expats. By the way, foreigners get paid another 60% as a harmful exposure allowance, even those based in office in the city of Atyrau.
I propose to reconsider minimum requirements for attraction of foreigners - to take here top managers only and replace the rest with locals."



March 15 2013, 09:36