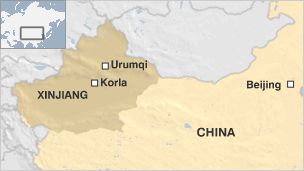 Four people have been killed and eight injured in a knife attack in western China's Xinjiang, officials said.

The attack happened in Korla, the centre of Xinjiang's oil industry, on Thursday.

A suspect had been arrested, regional spokeswoman Hou Hanmin said. She could not confirm the ethnicity of the suspect or the victims.

In 2009, riots between Xinjiang's Muslim Uighurs and Han Chinese killed nearly 200 people.

Few details have been given about the incident - one report said several attackers were involved. Some reports suggest they were from the Uighur ethnic minority, but these cannot be independently verified.

Another report suggested that it was a criminal incident related to a gambling parlour.

The attack comes as China's leaders meet at the National People's Congress, in the final stage of the country's once-in-a-decade leadership change.

Xinjiang party chief Zhang Chunxian said the situation in Xinjiang was improving

Speaking at the congress yesterday, Xinjiang party chief Zhang Chunxian said: "Although the situation [in Xinjiang] remains tough, the overall stability in Xinjiang is improving and under control."

Some rumours on the internet were fabricated, and some disputes in Xinjiang exaggerated to sabotage national unity, he added.

Uighurs have long complained that they are being displaced by Han Chinese as Beijing invests heavily in the western region - which it sees as a gateway to Central Asia, the BBC's Martin Patience in Beijing reports.

Since the 2009 riots, which was China's deadliest ethnic violence in decades, tensions have been high and armed police patrol parts of the streets.

Exiled Uighur groups accuse the Chinese state of trying to crush their culture and subjugate their religion.

But the Beijing authorities say they are fighting only violent extremists who want to take over the region and form an independent Islamic state.
BBC
March 12 2013, 15:51