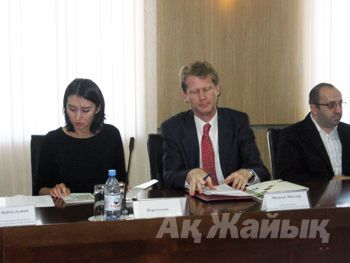 Last week, the Oblast Akimat received a large delegation of business people from Austria led by Michael MULLER, the Commercial Attache and Trade Commissioner of the Embassy of Austria in Kazakhstan. The guests made no disguise of their interest in our oil and gas sector.
The first deputy governor Gumar DUISEMBAYEV began his speech with presenting Atyrau Oblast as the region that delivers 40% of total crude production in the country and contributes one fifth to the republican budget.
He also said there are 450 international companies and joint-ventures working in the oblast.
To the deputy akim's proposal to participate in various projects and not only in the oil related ones, Muller responded him with the Austrian straightforwardness:
- We do understand that you wish to develop other sectors of economy as well, but we are interested in oil and gas industry first of all.
Their interest is quite understandable, bearing in mind that Kazakhstan is the main supplier of oil to Austria. In general, there are 50 Austrian businesses in our country. Austrian investment to the Kazakhstan economy makes 2.5bn euros, half of it spent in oil and gas sector through the Austrian national company OMV.
Muller stated that Austrian side hopes for the further development of commercial relations in the eve of the RoK President Nursultan Nazarbayev's forthcoming visit to Austria in October.
The Austrians paid keen interest to the level of completion of the Atyrau Refinery restoration project, construction of gas and chemical complex and Kashagan project. It is worth mentioning that KPI, before, had promised to conduct public hearings on gas and chemical complex in August 2012, but they did not - the company, in excuse, explained that designing works in China were not over being still in process. Concerning the Free Economic Zone to be created on the basis of the future complex, Duisembayev said that 30 projects had been selected for completion within the area.
Besides, the Austrian guests were offered taking part in the creation of an industrial park within the Oblast capital:
- We will cover a part of expenses on the construction of infrastructure. Entrepreneurs will be completing projects only. We saw the place and selected the future location. We will align the project with the Oblast Akim and start presenting it, said Duisembayev.

The delegation asked about the perspective of partnering with the local companies in oil sludge utilization. In its turn, Atyrau was interested in the Austrian practice in utilizing municipal wastes, agriculture and development of mineral deposits.
Duisembayev also said that a project of 'dry port' in the Atyrau airport, half area of which is owned by Social Business Corporation Atyrau subordinate to the Atyrau Oblast governor, was being considered:

- We have made an agreement with a company that deals with calculation of transportation logistics and cargo traffic. We are ready to consider your proposals on participation in this project, as well.
By Laura SULEIMENOVA


September 18 2012, 11:27