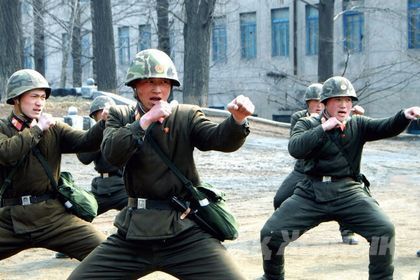 North Korea is cancelling a hotline and a non-aggression pact with South Korea and reiterating past threats in anger over a UN Security Council vote to impose more sanctions on the North for its third nuclear test.

The statement the North issued Friday comes after the council leveled tough, new sanctions targeting the North's economy and leadership. North Korea already has threatened of a pre-emptive nuclear strike on the United States.

North Korea says it will retaliate with "crushing strikes" if enemies intrude into its territory. It also says it is voiding past nuclear disarmament statements between North and South Korea.

It previously said it was canceling a hotline with the United States and the armistice that closed the Korean War in 1953.
The UN Security Council has voted unanimously for tough new sanctions to punish North Korea for its latest nuclear test, a move that sparked a furious Pyongyang to threaten a nuclear strike against the United States.

The vote Thursday by the UN's most powerful body on a resolution drafted by North Korea's closest ally, China, and the United States sends a powerful message to North Korea that the international community condemns its ballistic missile and nuclear tests — and its repeated violation of Security Council resolutions.

Immediately before the vote, an unidentified spokesman for Pyongyang's Foreign Ministry said early Thursday the North will exercise its right for "a preemptive nuclear attack to destroy the strongholds of the aggressors" because Washington is pushing to start a nuclear war against the North.

The White House responded by saying the U.S. is prepared to defend itself against a North Korean attack.
March 8 2013, 13:57