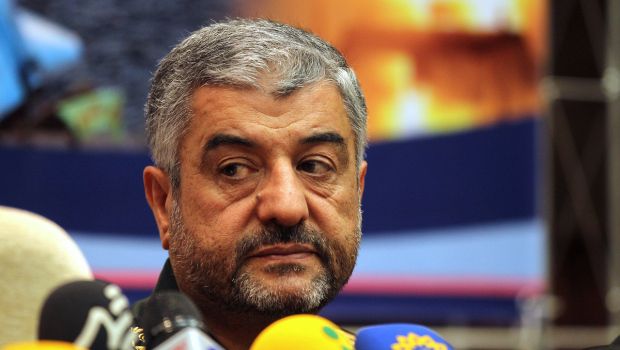 The top commander of Iran's powerful Revolutionary Guard says the elite unit has high-level advisers in Lebanon and Syria but remains undecided on whether to send military reinforcements to help save Bashar Assad's regime.

"A number of members of the Qods force are present in Syria but this does not constitute a military presence," Iranian news agency ISNA quoted Gen. Mohammad Ali Jafari (on photo) as saying at a news conference, according to Reuters. (Qods, also sometimes called Quds, is another name for the Revolutionary Guard.)

Jafari said Iran is only providing Assad with "intellectual and advisory help," according to Reuters.

Sunday's comments by Jafari were the first official remarks of their kind, and mark the clearest indication of Iran's direct assistance to its main Arab allies: Assad and Lebanon's Hezbollah.

It also suggests Tehran is wary about being drawn into a Middle East conflict if outside forces attack Assad, who is locked in a civil war with rebel forces.

Jafari told reporters that Quds force members have been in Syria and Lebanon as advisers for a long time, but was not more specific.

He says decisions about whether to boost military aid to Syria if attacked would "depend on the circumstances."

This image made from a video released by the Baraa Brigades purports to show Free Syrian Army soldiers guarding a group of Iranians abducted in early August 2012 near Damascus, Syria. (Credit: YouTube)

In early August, members of the Free Syrian Army abducted 48 Iranians, whom they claimed were members of the Iranian Revolutionary Guard. After first denying their military roles, Iran later said the hostages were "retired" military members on a pilgrimage.

A Free Syrian Army commander later told al-Jazeera that his brigade had "intelligence information" and "documents" showing that the group belonged to the Revolutionary Guards and had come to Syria to "serve the regime".

Iran has backed Syria's President Bashar al-Assad since the crisis began almost 18 months ago, and regards his rule as a key part of its axis of resistance against Israel and Sunni Arab states like Saudi Arabia and Qatar.
September 17 2012, 10:15