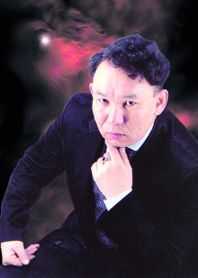 Poet Maraltai Rayyimbek-uly is the author of Centaur book of poems, of which English version will be published in London soon. Before presentation of his work he gave an interview to Khalyk Sozi.
Reporter: There is a habit to seek political causes behind every news. We know you were a good friend of ex-member of parliament Amanzhan Ryskali, the brother of Bergei Ryskaliyev, ex-governor of Atyrau Oblast, both now in exile. A number of people say that notorious Amanzhan Ryskali rendered great financial support in translation of Centaur into English.
Rayyimbek-uly: I can't tell people what to say or not. I had good relations with Amanzhan. He would always promote presidential policy and work hard for the future of the country. So it happened he is under criminal prosecution now and a lot of bad rumors are circulating. I believe one day justice will be served and he will be freed from a charge. If he is Amanzhan I knew, he would not do all those things. I don't think he is bad what most people say.
He has nothing to do with the issue.
Reporter: Do you still keep in touch with him?
Rayyimbek-uly: It's been a long time since we last talked. Now I even do not know where he is...

nur.kz


February 26 2013, 12:09